How To Visit The Abashiri Prison Museum Hokkaido
Abashiri in north east Hokkaido is a city of around 35,000 people. Abashiri is primarily visited by tourists for the ability to see the drift ice in the Sea of Okhotsk, which was the reason for my stay in this region.

Another tourist site to visit in Abashiri is the Prison Museum. Considered the "Alcatraz" of Japan, the museum is worth a visit for sure.
My Visit to the Abashiri Prison Museum
I got the train up to Abashiri at the very north of Hokkaido on the Sea of Okhotsk primarily to head out into the Artic Drift Ice on a Russian Ice Breaker. I arrived mid afternoon and checked into my little motel, got some directions to a restaurant that was open in the hideous weather and got a good sleep to be ready for my adventure into the Artic ice the next day.
Early the next morning I get up, catch the bus (in the snow – still thrilled by that snow) down to the dock ready for my foray out into the arctic. Very excited too I might add. Unfortunately all drift ice trips for that day were cancelled due to bad weather. WTF?? Its an Ice Breaker! Surely it can cope with a little rough weather?
The staff at the counter were very nice but all they could tell me was to come back the next day. I wasn't even sure if my booking would automatically transfer and somehow couldn't seem to get my point across. So I figured I would just show up the next day and see what happened.
I was so disappointed and almost in tears I wandered over to the tourist info centre to see if I could do anything else for the day. The lady there was so nice and explained to me that there was 9 foot swell (so what! I wanted to say) that meant the boats weren't running.
In the long run I suspect it was the state of the passengers they were concerned about, not the boats ability to weather the weather so to speak. Bummer as I would have had prime photo position on the front rail while all the others were inside throwing up but Cest La Vie – next time I guess.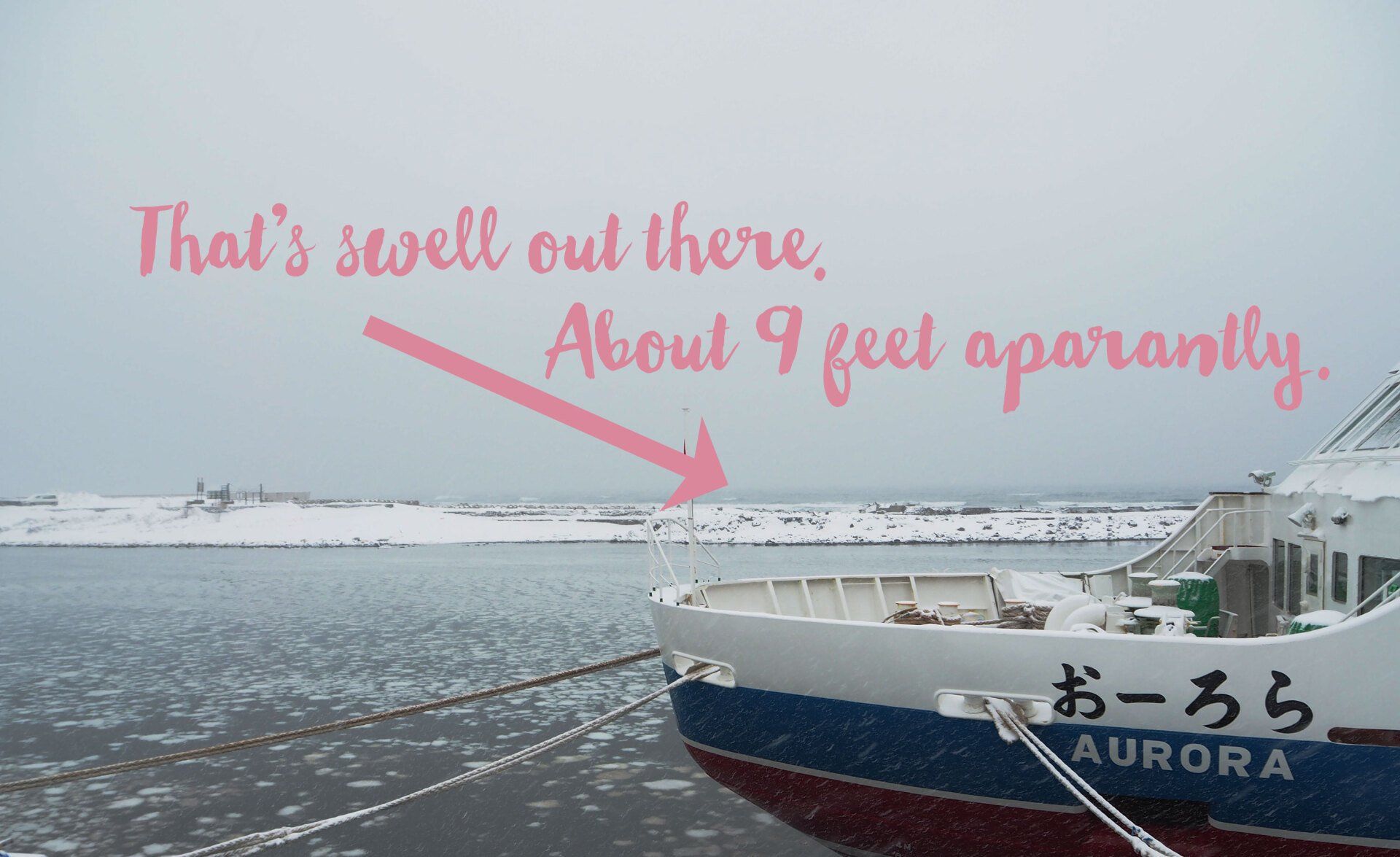 With not much else to do in this weather I took the advice of the very helpful woman from the tourist info centre and got the bus down to the prison museum just out of town which is one of the other few things to do in Abashiri.
---
How To Get To Abashiri Prison Museum
You will have to get yourself to the Abashiri Bus Terminal which is on the main road in and out of town and is about a 10 minute walk from the Drift Ice Sightseeing location. The bus goes out to the Prison Museum and its not at all difficult to recognise the stop when you get there. It is clearly a tourist destination and while you can't really see the prison from the bus stop you can see the sign and its very obvious. This Rome 2 Rio link will show you how. Abashiri Sightseeing Bus schedule is available here.
NB: I have heard that the buses may not operate on weekdays in winter, however I didn't find that to be the case. It is probably worth checking and even if that is true, a taxi would be maybe a 10 minute trip anyway.
Could I walk to Abashiri Prison Museum from Town?
If you are a walker, yes easily in the summer. The winter it wouldn't be possible with the level of snow they may get, but it is only around 4 km from JR Abashiri Station so an easy 40 minute walk.
About Abashiri Prison Museum
The Abashiri prison was known as the Alcatraz of Japan. Unlike Alcatraz though, the island is not ocean but is instead made up of inhospitable wasteland, and today in particular I could see why escape just wouldn't seem like an option. There is white as far as the eye could see and it would indeed really feel like there was nowhere to go.
Built in the 1890s, the prison held more than 1000 dangerous criminals at its peak. The prison was completely refurbished in the 1980s and most of the old buildings were moved to the current site for the purpose of showcasing the prisons history and conditions. It is an open air museum and you can move freely around the premises learning all about the prisoners daily life. The actual Abashiri Prison still exists on the original site and what you see here is not the location in which the prison stands.
There is a movie theatre which shows short films explaining the prisoners lives and duties, and you can of course walk through the wings that show the original cells and conditions.
During the early days the prison was a farming prison and fully self sufficient. I can see why you would need to be in this climate.
Interestingly the current actual prison holds inmates with less than 10 year sentences, very different from the prisoners in the original prison.
Yoshie Shiratori – the only escapee from Abashiri Prison
Yoshie is know to be the only prisoner that ever escaped Abashiri. Interestingly he was falsely accused of a violent murder and was originally imprisoned at Aomori prison in 1936.
After escaping from there, and then Akita prison he was caught and sent to Abashiri. His story of escaping from Abashiri is astonishing, however after 2 years of living in an abandoned mine, he was recaptured when he stabbed a farmer who attacked him while he was stealing tomato's from the farmers garden.
He insisted it was self defence but was found guilty and sentenced to death for crime. His story doesn't end there and I would encourage you to read the Wikipedia articles on Yoshie Shiratori. Whether it is all fact or even faction, it is a great story of the only Abashiri prison escape!
The prison is presented really well and I actually enjoyed my few hours wandering around. They had some great propaganda posters which I loved but sadly they aren't available for purchase, which would be ideal. Its hard to explain when you don't speak the language how we westerners love that stuff.
I took these photos of some the posters from the prison and would love to know exactly what they are. There has been some very popular cult movies about Abashiri Prison and I'd really be keen to find out if these are from those movies. If you know please let me know in the comments below.
---
How Long Does It Take To Visit Abashiri Prison Museum?
I spent probably 2 hours at the museum. It was February and the ground was meters deep in snow. I imagine in the summer months when you can move around outdoors more freely you could add another hour to that. I did find that the 2 hours enabled me to see everything there was and wasn't rushed.
NB: Check the bus schedule for the return trip when you get off the bus as they only go every 2 hours or so in the winter months.
---
What season is best to see Abashiri Prison Museum?
While you would be able to see more and have access to more of the outdoor spaces in the summer, I really enjoyed my winter visit. You could really feel how hopeless it must have felt for the prisoners in these extreme conditions and seeing it surrounded by snow for as far as you could see, which is what they must have faced, it is easy to see why not many attempted to escape.
---
How Much Does It Cost To Enter Abashiri Prison Museum?
Admission Fees for the prison museum are very reasonable.
There is a 10% discount on presentation of this coupon. Its kind of strange but you can just present it via your phone and they will give you 10% discount on entry.
Entry Fees:
| Visitor | Price |
| --- | --- |
| Adult | 1,500 yen |
| High School Senior | 1,000 yen |
| High School Junior | 1,000 yen |
| Elementary School | 750 yen |
| Groups | 20+ groups = 20% discount |
| Seniors | 750 yen |
| Disabled Visitors | 750 yen |
| Abashiri Locals | 20% discount |
| Online Purchases | |
---
How To Get To Abashiri
Abashiri is in the north east of Hokkaido, Japan's northern most island.
While you can fly to Abashiri from Sapporo, I found the best way was via the amazing Japanese rail system.
This route is covered by your Japan Rail Pass and they do run direct routes twice per day. There are 2 other non direct routes also available however current timetables are not available due to COVID. Check out HyperDia for the latest timetables.
The trip takes just over 5 hours and while you don't change trains you do change the way your seat faces at Engaru. We stopped there and everyone got up and I thought I must have made a mistake and needed to change trains, but no – they simple change the seat back over to be the other way and off you go again.
If you don't know about the Japan Rail Pass – its a train pass for tourists that enables you to save up to 50% on train prices should you use it heavily. It is available in multiple day options and you do have to order it from your home country before you arrive in Japan. It is not available for purchase in Japan.
See Accommodation Deals for Abashiri