Touring Hue, in Vietnam on the back of a motorbike
Hue is a lovely city in Vietnam's central region that houses the Imperial City, the Forbidden Purple City and the Thien Mu Pagoda.

As there is quite a bit to see in and around Hue, doing a tour is the way to go. If you would like something a little different a Hue motorbike tour is a great way to do it. You don't have to worry about directions and where to go and you still get the experience of seeing everything that Hue has to offer from the back of a motorbike.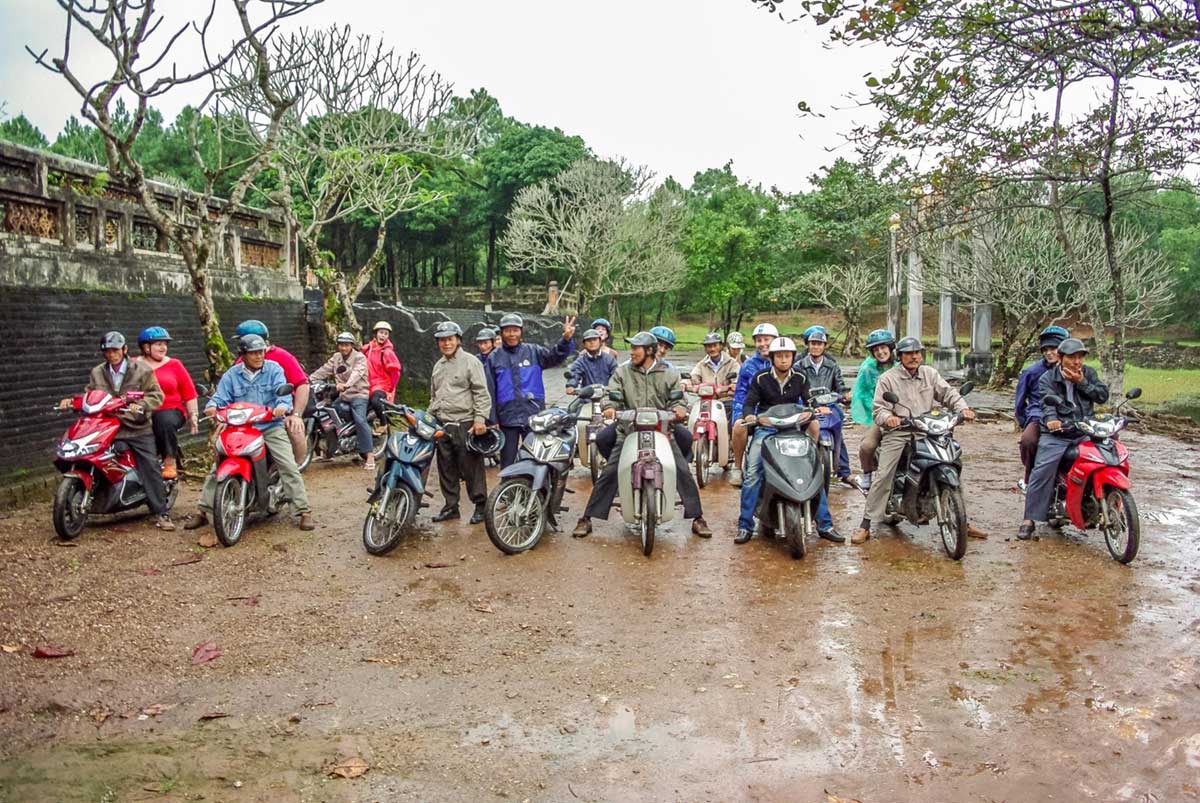 ---
About a dozen of us and our "drivers" headed off into the surrounds of Hue in the misting rain to visit the Royal Tombs, have lunch made by the nuns at the local convent (can't remember the Buddhist equivalent), visit a gorgeous pagoda and generally hoon around the back alleys/lanes/rural areas of Hue. It was great and the fact that it was raining was superb as we were the only people at each location we visited.
NB: We had our two 17 year old nieces with us for Vietnam and Cambodia so to enable them to have some age appropriate travel companions, we did an Intrepid Travel tour for Vietnam and Cambodia, however looking at the same tour now, it seems to visit some different places. I'm sure there are others and in fact I found this Hue Riders tour that looks to be almost the exact itinerary we did. (I haven't done it though).
Visit the Thanh Toan Bridge Hue
This is a beautiful little bridge , originally built not only to allow the villages to cross the river, but also has seating along its length to allow the local market operators and visitors to escape the scorching midday sun.
The bridge is located in the sleepy village of Thuy Thanh about 7km outside Hue city. Its a very ornate Japanese style bridge that arches over the small river. Its just as much a tourist destination now as it is used by the locals however it is great to see and the market stalls set up nearby give you a chance to buy fruits and vegetables and or course tacky souvenirs.
The trip to the bridge winding through the rice paddies is half the fun and doing it on a motorbike is the best way to see the surrounding landscape.
There is also a local fortune teller who does readings at the bridge. She is quite famous and while I don't subscribe to that kind of thing, I splurged the money and got my fortune read which to be honest was just for fun. Nothing new to hear! She was pretty amusing though.
The bridge is said to have been constructed under direction from Emperor Le Hien Tong during his reign. Tran Thi Dao, the wife of a high ranking official in the Emperors court (and Mandarin by birth) suggested the construction of the bridge to ease transportation in and around the village by allowing villagers to easily cross the waterway.
Viator has quite a few day tours from Hue that will allow you to see the bridge.
Learning to make incense in Hue
Our next stop is a local village where these Vietnamese ladies try to teach us how to make the incense sticks. Notice I say try – its a very unsuccessful learning process for me and I leave realizing rolling incense is not my forte! It was fun to try though and one of the guys on the motorbike tour was a jet! Guess you never know what you're going to be good at??
Hue is home to a lot of temples, more than any other area in Vietnam I believe. Accordingly Hue is a very spiritual locale which is how the incense making came to be such an industry here.
FYI: The ladies that do make these manage 4000 sticks an hour. Stuff that! I don't want to know what RSI issues they have later in life.
Our motorbikes dropped us off at the boat and we all waved goodbye to the characters that had wizzed us around Hue all morning. They were characters too. We moved on through the countryside and visited Thien Mu Pagoda and another few temples. By this stage the rain had set in hard so it was difficult to really enjoy the locations we visited and get the most out of them, however it was a fun afternoon.
Thien Mu Pagoda
Thien Mu Pagoda, also known as Linh Mu Pagoda is one of the most revered pagoda's in Hue. Only about 5kms from the centre of the city. the Pagoda sits on the banks of the Perfume RIver in Huong Long Village.
The pagoda's name loosely translates to the pagoda of the Heavenly Fairy Lady and was built in the early 1600's. It has been restored multiple times over the centuries which has ensured its survival. Each restoration has added little features here and there so the temple you see now is much grander than was was originally built.
The tower, which I incorrectly assumed was the original construction, wasn't erected until the late 1800's but it has become the symbol of not just the pagoda but of Hue itself. Each of the octagonal tower's seven storeys (2m high), is dedicated to a different Buddha. It is the highest stupa in Vietnam, and is an unofficial symbol of what was once the Imperial Capital.
The Pagoda has held a significant historical place in the heart of most Hue residents and as recently as the 1960's was a major situational point for protests in support of the Buddhist movement across Vietnam.
If you visit the pagoda in the late afternoon you might be lucky and catch the monks praying inside.
How to get to Thien Mu Pagoda
If you are not doing a day tour of Hue (or the motorcycle tour that we did), you can easily walk to the Pagoda from central Hue. Its about 5km so about an hour each way. You could also hire a pushbike and cycle or get a dragon boat up the river, which is what I would recommend. It is a totally different feel stepping off the boat and climbing the steps from the river. If you walk down to the river front around Trang Tien Bridge, there will be boat owners and drivers ready to negotiate.
The Pagoda is almost always included in any day tour that you might do in Hue. Get Your Guide and Viator both have heaps of options for day tours, however this GYG one and this Motorbike Tour of Hue through Viator one looks great. It doesn't visit all of the sights of Hue, but it is with a local person and you get to have a traditional Vietnamese breakfast, visit the Pagoda, the literacy centre, a market where you purchase all your ingredients and then a cooking lesson. I think it looks like fun.
Day Tours Of Hue that Visit Thien Mu Pagoda
If you are after something a bit more active, you could do this cycling tour (with the dragon boat up the river) or even this E-Bike tour which is still active but a little less so! The EBike tour doesn't do the bridge, however it does have some different sights on it so I would think it was worth it. You can always get a taxi out to the bridge at any point.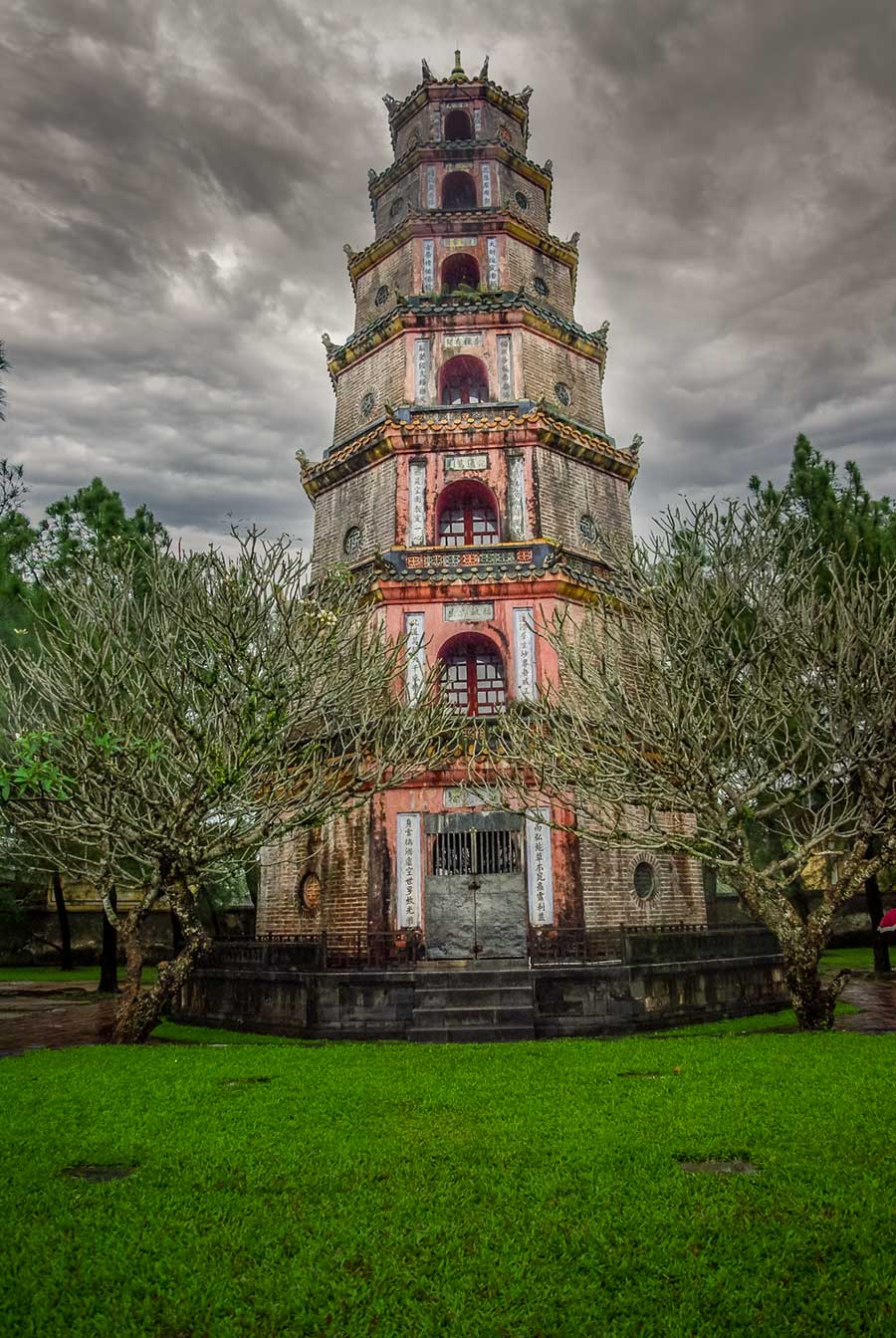 Boating up the Perfume River
We returned to Hue via boat along the Perfume River which was a slow trip and of course went via the wood carvers just in case you wanted to buy something. By this stage the "you buy you buy" was wearing very thin. I'm sure Vietnam was awesome a decade ago but it's very much "tourist Asia" now and is exhausting when you are there to see things and not lie on the beach and shop. It gets really hard not to be rude and if possible they are even more insistent with their sales pitch than Thailand or even Kuta.
I'm not kidding about the sales pitch. Any Australian who has ever been to Kuta knows of the intense sales pitches you get every 3 steps and honestly in Vietnam I felt it was a little more intense than that. We didn't notice it as much around Hue, however of course most trips of some kind have at least one shopping stop. This is where it kicks in. My recommendation is to just not go inside.

You can have allergies to dust, or feel a little car sick to make up a reason if you don't want to offend anyone, however there are some instances where I'm flat out truthful. I just say "I have no interest in buying anything at all and I'm not going in" and I say it in a firm voice but without any anger or aggression. It is almost always just accepted at face value.

Once I had a tour guide try to appeal to me with "the local people need this help", to which I responded "I understand but I paid for this day tour so I am helping the local community." I know I sound tough but honestly I have no challenge being taken to a local business on a day tour, but I do take offence to someone trying to take my choice away with regards to whether I go in or not.

I've bought some of my most treasured souvenirs on some of these "you buy you buy" shopping stops, but I've bought them because it was something I already wanted, it was something that just spoke to me or I saw something that one of my loved ones would love. I've never ever bought anything from being pressured to and I refuse to start now.
Shopping stops aside, the highlights of the day for me was getting some great photos in the overcast weather and my favourite photo of the trip, which I had to try and take in very bad light in a hurry so while the quality is crap I LOVE the composition. Its a young monk in training sitting in a doorway reading his books in semi-darkness with a single light casting a glow over his back toward his book. His total disregard for the tourists browsing the tombs and dedication to his studies was pretty inspiring. As you can see the quality is rubbish but I love it.
Motor Biking Around Hue For The Day – Conclusion
Firstly – this was a really fun day.
The riders were all older gentleman so no speed demons or crazy drivers.
Everywhere we visited (with the exception of the shopping) we had heaps of time,
They had ponchos for us for the rain which was great &
Our lunch at the convent and time at the historical sites was stress free
I would thoroughly recommend this as a great way to see everything that Hue has to offer.
Motorbike Tours Of Hue You Might Like
---
---
---