Getting lost in the Medina in Fes
The gates leading into the Mdina in Fes look pretty harmless? Sure the gates are harmless, but lurking behind them is rabbit warren that is the Mdina in Fez. An area full of dark corners and clay brick that you could easily never escape from. Think I'm exaggerating?? No, I'm not!

However you can explore the Medina in Fes either on your own or with a tour fairly easily. You will need a SIM card to be sure you can work your way out but it is possible and it is great fun. Let me show you how I did it (both as part of a tour and on my own) so you can visit the Medina Fez Morocco.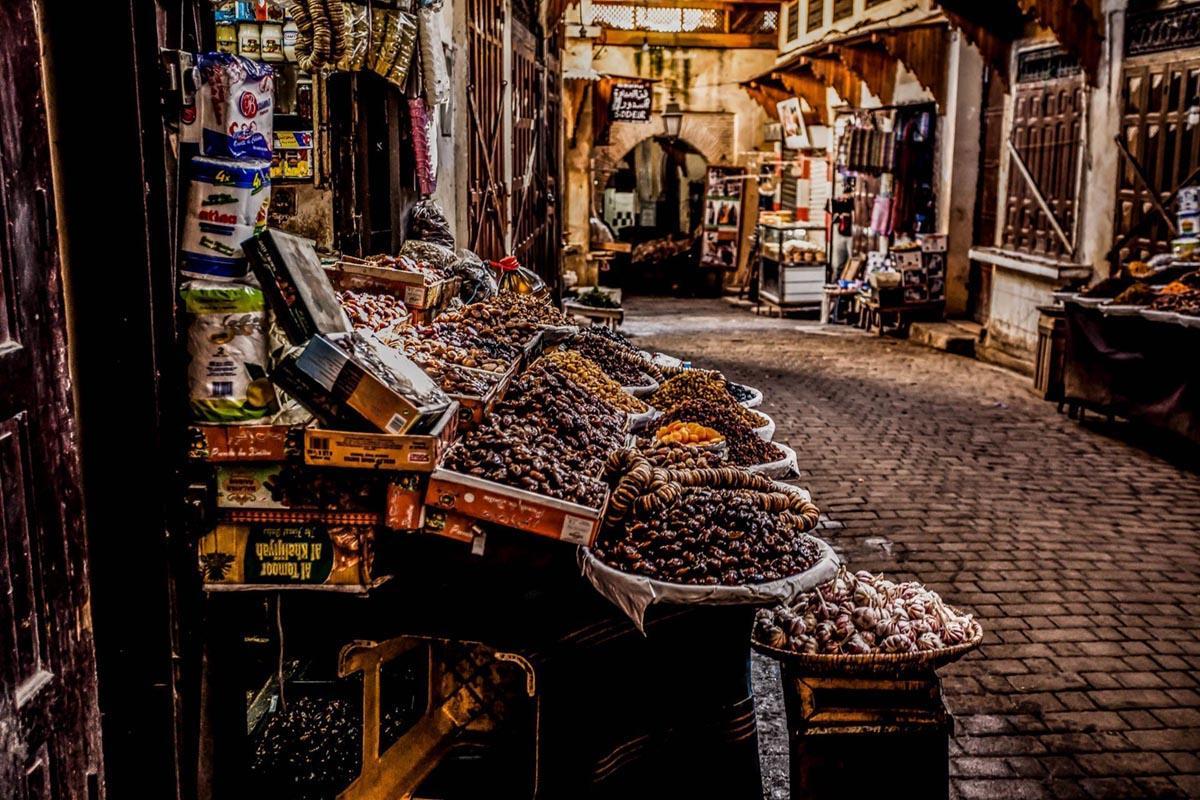 It's Fes not Fez, Morocco
Fez is a city in the north east of Morocco. While we westerners have morphed the "s" in Fes' name into a "z" primarily because of the pronunciation, the locals are devoutly attached to the s and rightly so. I can't imagine what it must feel like to have people change the name of your birthplace because of phonetics. Fes it is!
The Mdina in Fes is probably the most well know in all of Morocco. It has some amazing architecture and is buzzing with activity from dawn till dusk. It is however the easiest place in the world to get lost. OMG – so easy! Luckily we got on board with a local guide Mahmood, and while I wouldn't recommend him in particular (he was very grumpy and tried to keep us to a timetable – like that was going to happen!) he was immensely knowledgeable and took us to places we would never have seen otherwise. If you have only one day in Fes, the Medina is a must do.
As everywhere else in Africa, any guide you have will take you to a rug shop, a leather shop, an eatery and probably even for coffee to somewhere he knows.
Yes – there is no doubt he is getting a kickback but just consider it a free tour and firmly but NICELY "just say no" to anything you don't want to purchase.
Don't make an excuse, just say "No I don't want one", smile, turn and walk outside to wait for any others. It's important you don't stay in the shop. Staying inside will infer you are interested in something else. IF you aren't going to purchase make it clear and remove yourself from the conversation as they say. Don't be rude or aggressive, just remove yourself from the situation where it might be conceived that you have interest in purchasing anything in the shop.
---
The Leather Tanneries
Unfortunately one of the main features of the souks in Morocco are leather tanneries. Not a good thing to see if you are even slightly squeamish.
The smell! OMG the smell!
It's hideous and just makes you want to dry retch but no amount of convincing could steer our guide into other alternativels. Nope – right or wrong he was taking us to the leather tanneries.
I made it into the store and through to the tannery and almost threw up.
Luckily I must have also looked very green because not one single sales person tried to grab me on the way back out the shop. I just bolted back outside and waited for everyone there.
---
Shops and Locations Your Guide Will Take You in the Medina
I used to always get so offended when guides took us to places they were obviously getting kickbacks but you know what, I did get a few trinkets I love and I learnt heaps. In fact over the years I've learned so much from the "must do" places of interest and being 100% comfortable in saying I don't want to purchase something now means I don't really care if I have to go past the tannery. Having taken part in the special detours,
I know how they make ceramics here in Morocco,
I know how metal work in Bolivia is produced,
I know that the rug shops in Agra are now community based because you can't have industry close to the Taj Mahal. This now means the rugs are all manufactured by hand in little villages in the surrounding area by the women who would otherwise not have employment. These women can stay in the villages (taking stress off the Indian cities), pull rugs to their own time frame and get paid per piece.
I know that the little ladies around the plaza in Cusco selling their Alpaca rugs are doing so because they use every single part of that animal, and the rugs are what give them the cash to purchase whatever they need that they can't swap the meat for.
I wouldn't know any of these things without the guides. I always find you get invaluable info, get to meet entertaining characters and if the price of that is a visit to a rug shop, I'm ok with that.
Mahmood took us to a ceramics place where I did purchase something and they sent it home for me. A stunning platter made from blue mosaics which I love and was happy to buy. It arrived in Australia only two weeks later completely intact.
The rug shop – nope I don't need any rugs, the leather tannery – never going to happen, and finally the spice souk where everything smelled suspiciously the same to me so again no purchase. I did ask Mahmoud to take me to somewhere I could buy a headscarf, which he did and I think we all purchased something there.
Getting Lost In The Medina
He was intent on guiding us out of the Mdina but I wanted time to browse myself so after much negotiating (I think he was stressed that we didn't know where the truck was and he would get blamed when we didn't arrive back in time) we pretty much just told him we were going to head off on our own and would be OK.
I think there was about 5 of us decided we wanted to wander around but within minutes, I turned around and discovered I was completely on my own. YES!
I love exploring on my own timetable and
I knew I had about 2 hours before I had to be back at the truck.
I had a Moroccan sim card so I knew I could get to one of the Mdina gates and get a cab from there.
It might have been the best two hours I had in Morocco if I'm completely honest.
I drank tea (so sweet my teeth hurt) at a little stall, allowed myself to be led by the store owner to a dress shop. I didn't really need anything but found a gorgeous pashmina that I bought for my sister. Sue, if you're reading this I know you never got it – I ended up keeping it!
I stopped at a little grocery type store that was playing the football and spent the second half getting into it with the locals and on my way out to the gate (led by the football supporters) found this amazing little bakery that made what can only be described as a cross between Baklava and Croissants. I was told what it was but sadly my terrible memory hasn't retained it.
So I arrived back to the truck with 5 mins to spare only to discover the others had only lasted about half an hour in the Mdina. So in the end I didn't get lost, but I did meet some very cool people, drank tea, ate sweets, made a purchase and now support MAS Fes!
---
Tours of Fes Medina
There are a few tours that do the Medina in Fes. This one is just the Medina and the ones below may include other locations in this great city.
My Recommendations For Other Activities From Fes
There are a few locations in Morocco that are accessible on multi day tours from Fes that are hard to do on your own or from other Moroccan locations. Chefchaouen for example is popular as a day trip from Fes. You could get a transfer to and from Chefchaouen and Fes for around $40 AUD each way, or simply take one of these day tours for just over $50.
Chefchaouen is lovely but a single day would be enough to see the highlights.
It's not really possible to get to Chefchaouen via public transport (as at May 2023) so a private transfer is your best option if you wanted to stay overnight. Check out my article on Visiting Chefchaouen for more info.
---
How To Spend A Free Day In Fes!
Due to visa applications, we did get another full free day in Fes which I used to do some more sightseeing. I splurged and spent the night at a local hotel close to the Blue Gate which meant one less bush camp in the bad weather, and did my exploring from there. We were still getting rained on nightly at this point and I just wanted somewhere to get some washing dry and not have to put up and pack up a soaking wet tent again. Turned out to be a good decision and I ended up staying two nights at my little hotel and my taxi driver took me out to the truck early the morning we moved on.
Sometimes you just have to have some alone time and those few hours in the Medina showed me that was exactly what I needed.
Consider doing a day trip to Volubilis from Fes. This is a great Roman Ruin and again a little difficult to get there on your own. The day trip linked here also visits Mekenes which is a great Moroccan city.
---
Accommodation in Fes Morocco
Hotel Jardin Public – is a budget hotel and was $38 a night when I stayed there. It has a great little roof top garden and the restaurant is really worth seeing.
Alternatively check out the map below to find something suitable for your taste and budget.
---