Places to Visit and Things To See In Arashiyama
Kyoto is a wonderful city and you do have to make the choice to spend a good few days in Kyoto or alternatively really plan out what you want to see. Kyoto's Arashiyama district is on almost everyone's list for Kyoto, however it is worth adventuring further than the immediate streets around the train station and the bamboo grove.
Here are my top 9 locations that are really worth visiting in the Arashiyama area & my recommendation on how to get to Arashiyama.
1. The Keifuku Randen Tram Line
Getting to Arashiyama is possible via a few different train lines, however I would recommend catching the Randen Tram from Shijo Omiya. These trams are cute little carriages that are run by a private company and are a nostalgic representation of the trams that used to run throughout Kyoto. It is worth noting that they do not run into Kyoto and you will have to make a specific effort to get to these trams, however the Shijo Omiya station is easily accessible by the 101 bus from central Kyoto. The trams are a great way to arrive into Arashiyama and their station is surrounded by tourist info on the area.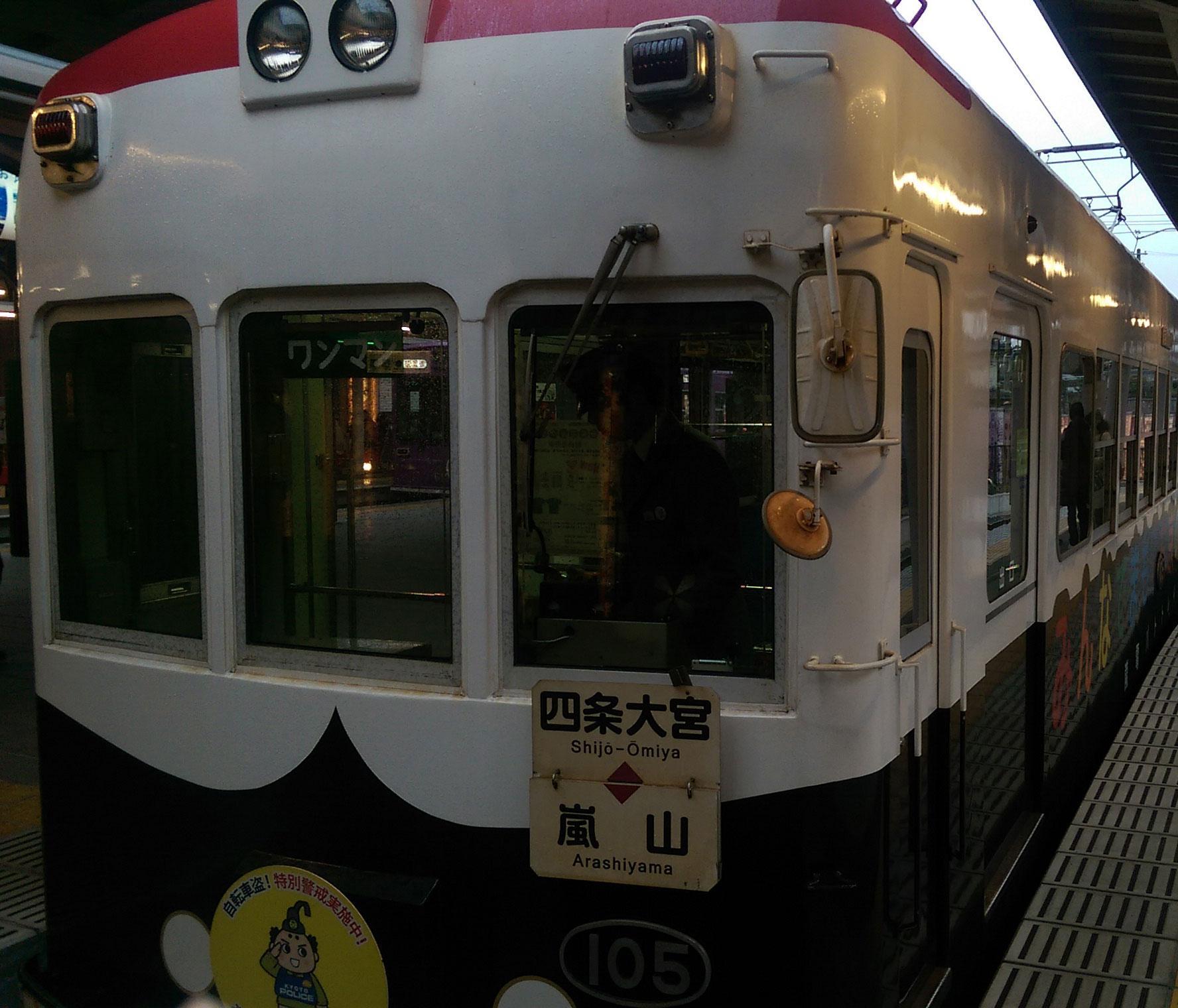 ---
2. Arashiyama Bamboo Forest
The bamboo forest is one of the main reasons everyone visits Arashiyama. It is a lovely walk through towering bamboo stands and while it is very popular with the selfie crowd (I did take my own selfie there), it is still beautiful despite the crowds. I managed to get one of my favourite photos in Japan in the Bamboo forest. It was very early and a very rainy day so it was quiet and the travel gods just decided they would grant me a great photo. I had my camera under my rain poncho so the photo isn't great quality (I had to get it out, focus in the rain and shoot), but I love it.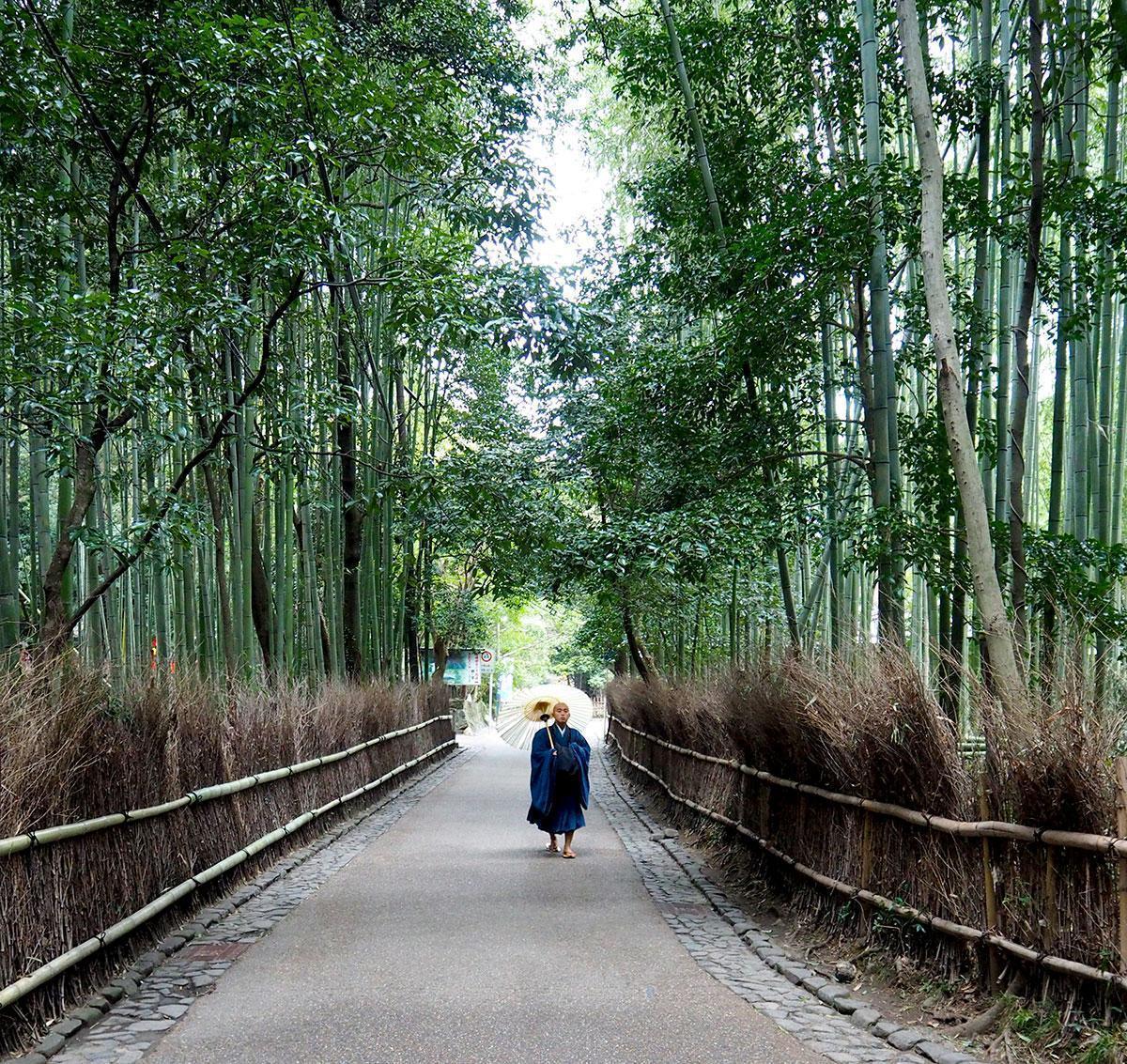 ---
3. Arashiyama Park Observation Decks
The observation decks at Kokurayama Park are worth the hike up. It's a mix of trail and steps and takes around 15-20 mins to get to the top. There are multiple observation decks and the trail is marked in both Japanese and English. You access the trail from Arashiyama Park, however look for Kameyama Park on Google maps as there are multiple parks in Arashiyama that all claim the same name.
If you are a hiker consider continuing on further up Mt Ogura for a fantastic view out over Kyoto. There is no view from the top of the mountain however as it is surrounded by trees, but there are clearings on the way with great views back over the city.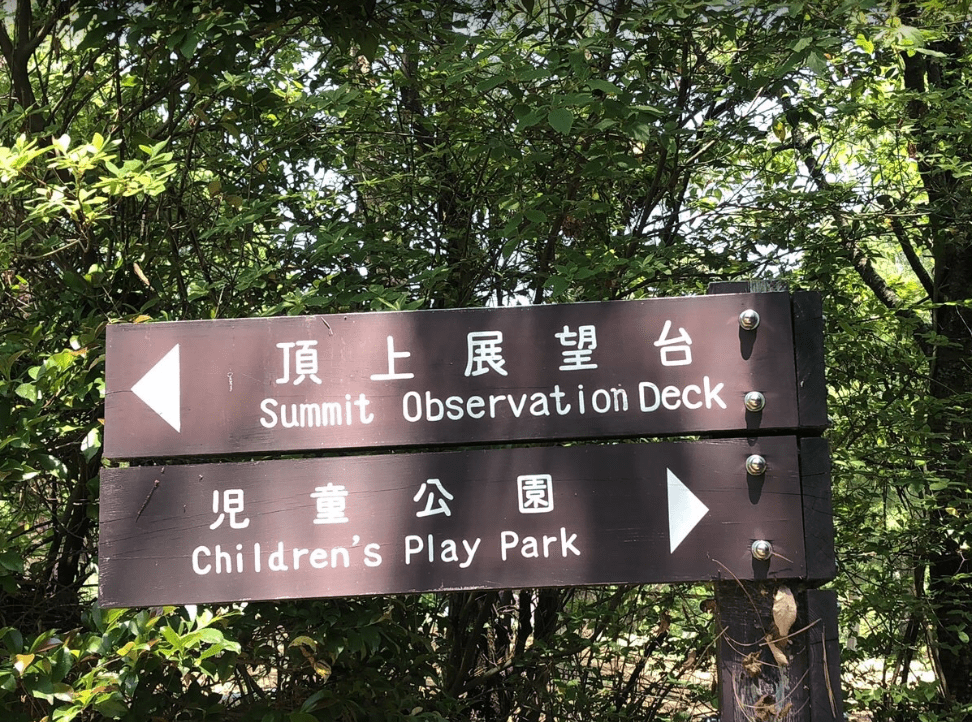 ---
4. Otagi Nenbutsu-ji Temple
Right at the end of the Arashiyama temple zone is Otagi Nenbutsu-ji temple. This was my favourite temple by far. Its small and quirky and because it is about 3km from the Arashiyama station, a lot of people don't go that far. If you get to the end of Saga Toriimoto Preserved Street, Otagi Nenbutsu-ji temple is only about another few hundred meters further along that road.
The temple is know for its 1200 Rakan statues that are all completely unique. After devastating damage from a typhoon in 1955, the temple seemed like it would never be repaired. However, in later years a new head priest Kocho Nishimura began renovating the temple. An accomplished sculpture himself, Kocho had the idea to ask local people and businesses to create their own statues for the temple. Under his expert guidance over 1200 statues were created, no 2 alike. They are so fun and you can spend a good amount of time checking out all the statues.
Three of the statues from Otagi Nenbutsu-ji temple. There is one with a tennis racquet, one with a Walkman, one with a bowler hat and a pair sharing a glass of sake.
---
5. Sagano Scenic Railway
The scenic railway from Arashiyama to Kameoka is very popular. The first train of the day leaves from Saga station at just after 10am and from that point on runs hourly with the last train departing at 2 mins past 4pm.
The usual practice is to take the train to Kameoka and then the boat back down the Hozugawa River. Tickets for both can be purchased on their website and you should make sure you pre purchase tickets to guarantee a seat. The train is very popular particularly during spring for the blossoms and fall (autumn) for the leaves.
It is worth noting that the train doesn't run in January or February so sadly I couldn't take it. Next time!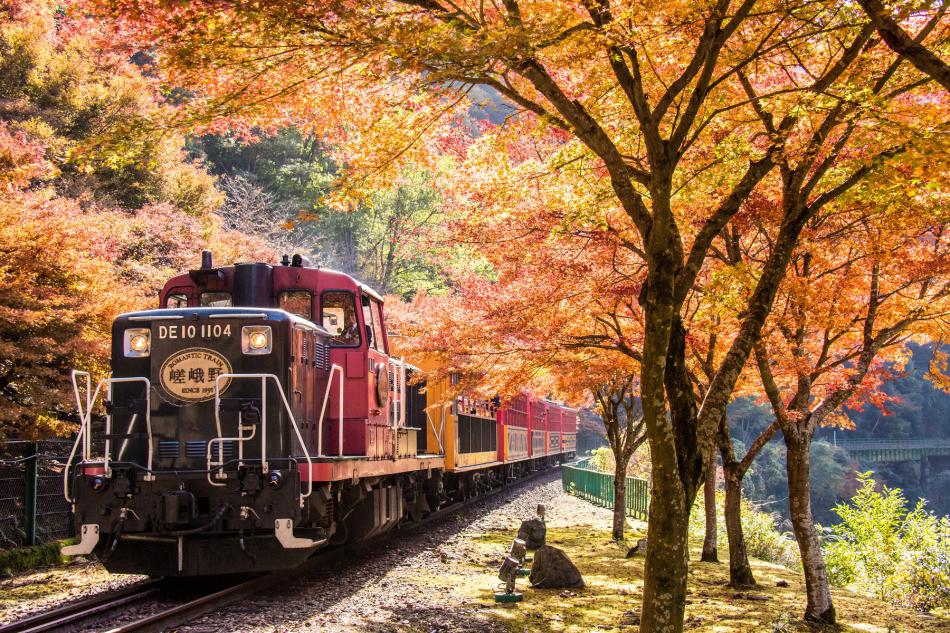 ---
6. Adashino Nenbutsuji Temple
About 1.6km walk from the more popular Bamboo Grove, is Adashino Nenbutsuji temple. Along with thousands of stone statues, this temple has its own bamboo path the winds up a cement staircase and is a great location for your Instagram shots of Arashiyama.
Over 8000 stone images fill the temple, believed to represent the souls of people who have died without family. It is truely amazing to see.
If you are in Kyoto at the end of August, be sure to visit the Sento-Kuyo ceremony where they light thousands and thousands of candles in among the statues. It is held on the last Saturday and Sunday in August and is 1,000 yen to receive a brochure and a candle.
Of course there is also the bamboo steps which the staff are happy to direct you to. This isn't the main bamboo path that Arashiyama is famous for but in my opinion its just as pretty. 
---
7. Saga Toriimoto Street
Saga Toriimoto street in Arashiyama is of course lined with traditional houses from the Meiji period. The homes have been converted into restaurants, cafes and shops but they are remarkably well preserved and a lot of the shops feature traditional Japanese souvenirs. If you get a rickshaw ride around Arashiyama this is often the highlight.
The Saga Toriimoto Archive Hall is a great place to stop if you need a break and learn all about the area from the volunteers here. There is a great little model of the area from its time as one of the primary funereal areas in Kyoto and coffee and toilets are available.
---
8. Tenryuji Temple Shigetsu
Situated in a Buddhist temple grounds, this restaurant serves up set price traditional Japanese vegetarian meals. Open from 11~2 there are 3 options for meals costing 3,300 Yen, 5,500 yen and 8,000 yen. The menu changes as per season and availability but it is amazing food. Even if you are not vegetarian, please stop and experience quality food in a wonderful setting. A pic of the entrance is below and this is their Google Maps location.
---
9. Togetsu-kyo Bridge
There is a lot of info out there about Togetsu-kyo bridge, some saying that it is over 900 years old and some saying it's closer to 400 years old. Regardless it is a great example of a traditional timber Japanese bridge. In the fall it can get very busy as the hill up behind the bridge showcases the leaves changing color, but I can imagine it would be worth the crowds at that time of year. The water levels do change, sometimes it is running hard and other times you can see green vegetation under the bridge. The bridge has been used in quite a few historical films and it is also used as the place where young children receive their first blessing from a local temple. They then have to make their way across the bridge without looking back. It is said to give you bad luck if you look back so for the youngsters it is quite an achievement to cross it and not turn their heads.
---
Day Tours the Take In Arashiyama
---
Of course there are many many temples in Arashiyama and if you are prepared to dedicate a day and about 7 or 8km's of walking, you can see them all. I've included a mix of my most favourite temples, walks and places to see in Arashiyama but of course there are many other things to see.
Everything is included on my map below, with the exception of Tenryu-ji Temple for the vegetarian food. Use their Google Maps location to find that one.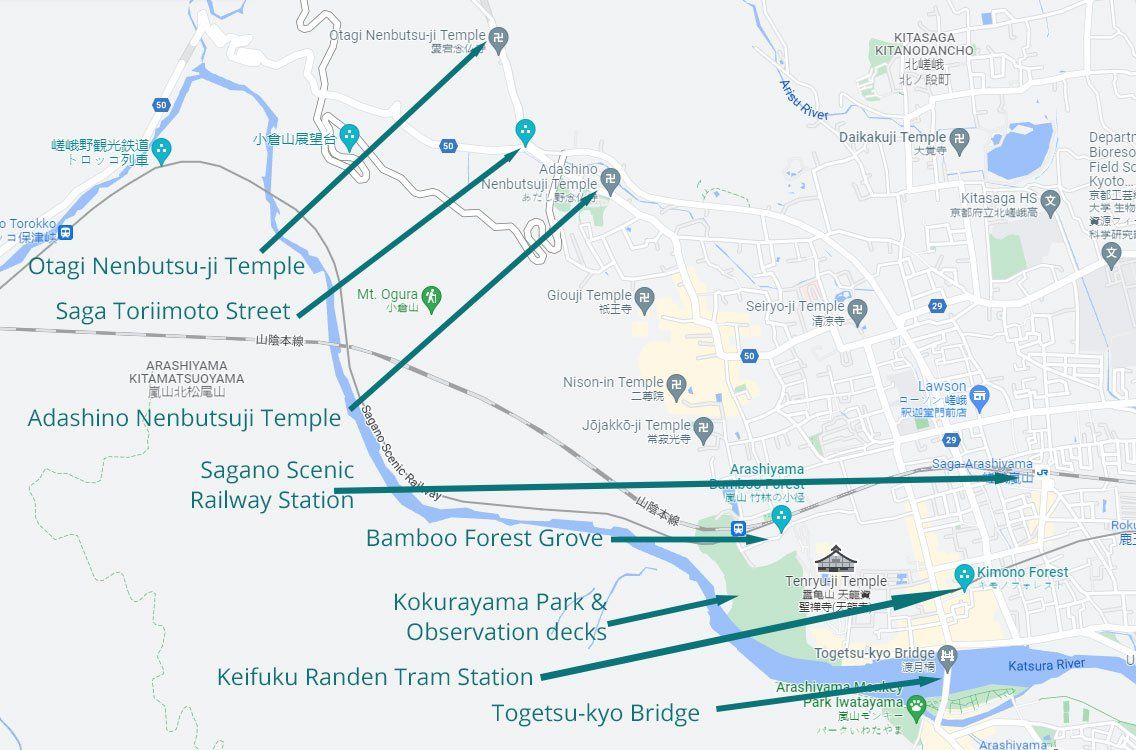 ---
Tips for Visiting Arashiyama
Go early. It gets super busy and because most of the temples you can access at any time, you can get there at 8am like I did and make the most of it before it becomes crazy busy.
The further away from the station you get, the quieter it is. I was coming back from Otagi Nenbutsu-ji Temple mid afternoon and I had no idea it was that busy until I turned into the last street.
The scenic railway doesn't run over the winter months.
Take a good poncho or rain jacket so you can keep walking and seeing everything if it rains.
Keep your eye out for the little cafe's that are around if you stay off the main road. They are delightful.
Where to stay close to Arashiyama
If you decide you would like to stay in the area, there are a few hotels and guesthouses close by. The map widget below will help you to see availablilty of hotels in your price range.