Spend 5 Days In Dubai With This Perfect Itinerary
Have you been dreaming of a trip to Dubai? Well, you're in luck!

Dubai is one of the most exciting and diverse destinations in the world. The city has something to offer everyone, from luxury shopping and fine dining to adventurous desert safaris and world-class sightseeing.

Planning a trip to Dubai can be overwhelming, so I've put together this ultimate 5-day itinerary to help you make the most of your time in this amazing city. Whether you're looking for a luxurious escape, an adventurous getaway, or a cultural journey, this itinerary has you covered!
---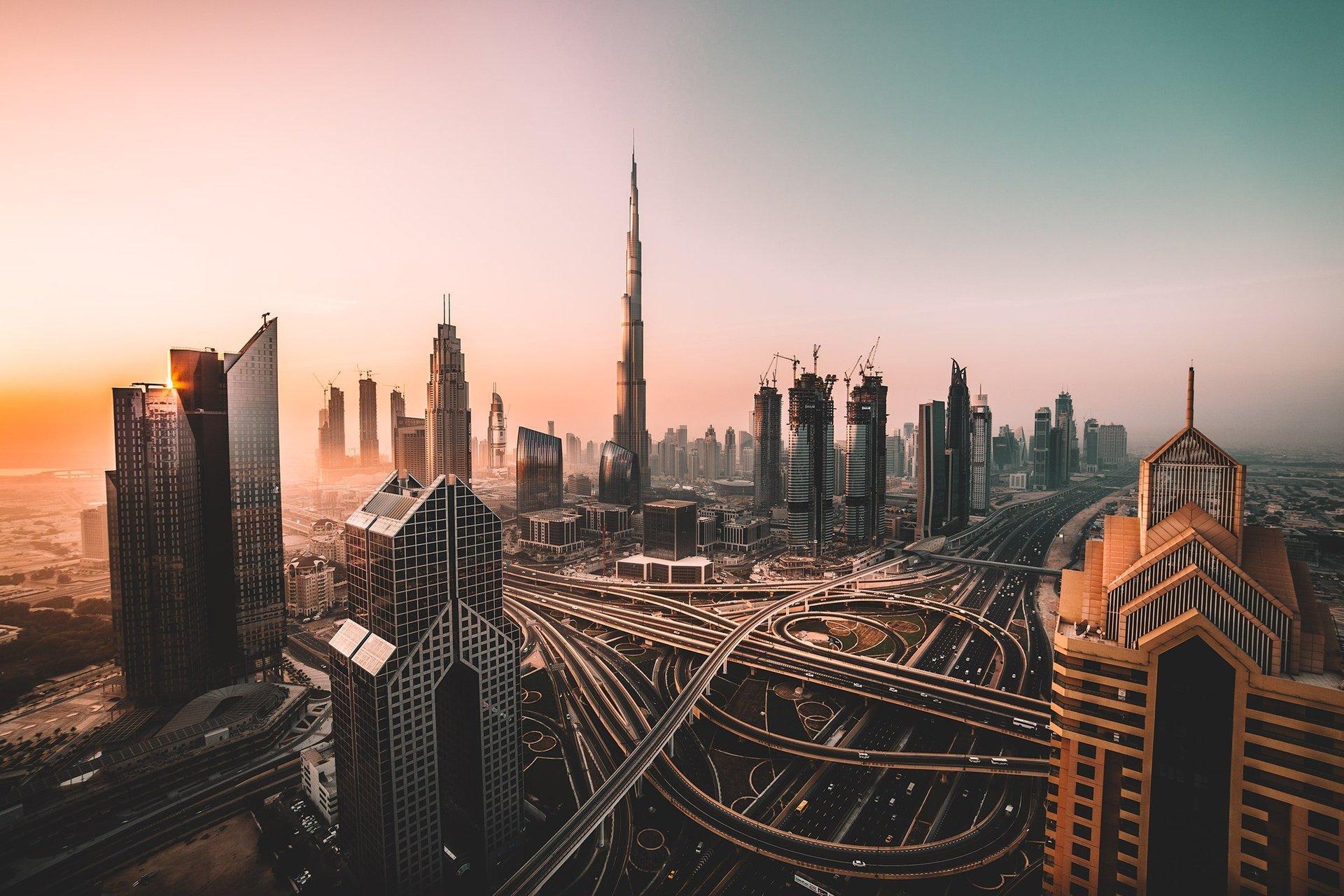 About Dubai
Once a humble fishing village along the edge of the Arabian Desert, Dubai has undergone a remarkable transformation into a global metropolis and a hub of commerce, tourism, and innovation.
Fuelled by its strategic location and oil wealth, the city has catapulted itself onto the world stage with ambitious projects like the world's tallest building and sprawling artificial islands. Today, Dubai stands as a testament to visionary urban development, blending its Bedouin heritage with an ultramodern lifestyle that attracts people from all corners of the globe.
Dubai is a city of superlatives that promises an unforgettable travel experience.
Known for its breath-taking skyline dominated by towering skyscrapers like the Burj Khalifa, the world's tallest building, Dubai is a fusion of futuristic innovation and deep-rooted cultural heritage.
From the golden sands of its expansive deserts to the luxurious allure of its shopping malls and the vibrant tapestry of its cultural districts, Dubai offers a wide range of attractions for every kind of traveller.
Whether you want to go skydiving over Palm Jumeirah (yes that's possible), or enjoy the serenity of a sunset dhow cruise along Dubai Creek, Dubai is a destination that not only meets expectations but exceeds them in spectacular fashion.
---
Introduction: What to Do in Dubai for 5 Days
Dubai is a city that offers something for everyone. But with so many things to do in Dubai, how do you know where to start?
In my opinion, formed from about 6 visits to Dubai and the UAE, 5 days is the perfect time frame to see everything that Dubai has to offer and not be too rushed in the process.
This 5-day itinerary is designed to provide a comprehensive overview of the best things to do in Dubai for a week. From luxurious spas and world-class sightseeing to exciting desert safaris and shopping tours, this itinerary will help you make the most of your time in this incredible city.
---
Day 1: Dubai Itinerary
Morning Day 1
After your incoming flight, you will probably want to start your day with no pressure. With this in mind, I've left the morning free. Any of the Day 1 activities can be moved up if you are a morning person. If you are a shopper and know you will spend at least a few hours in Dubai Mall, it might be best to start early!
Afternoon Day 1: Burj Khalifa, Dubai Mall And Burj Khalifa Fountain
Head to the world-famous Burj Khalifa. At 2,717 feet (828 meters) tall, the Burj Khalifa is the tallest building in the world, and it offers spectacular views of the city. Tickets are a must and I would recommend booking well in advance to secure your preferred time slot.
Allow 2-3 hours for the Burj Khalifa visit. While you might not need this time, there can be queues not just for the elevators but also for the best photo spots.
Tickets for Burj Khalifa
After you have visited the Burj Khalifa, you are free to explore Dubai Mall and shop until you drop. The mall is massive and while it is home to many luxury brands there are also many more affordable options for shopping.
After you have all your shopping done, head out to take part in your Burj Lake boat tour and fountain show. The times of the boat tour like up with the times of the water fountain show so you can choose time slots between 5:45pm and 10:30pm.
Tickets for Burj Lake Ride
Tickets should be purchased in advance because they also sell out quickly. Grab them early to avoid disappointment.
POSSIBLE EDITS FOR THIS DAY
If you would prefer, you could swap the Burj Khalifa and Dubai Mall to visit the mall first. The ticket office for the Burj Khalifa is inside the mall so if you would prefer an evening or night visit to the tower, just visit the mall first.
Evening Day 1: Dinner At Dubai Mall
There are many dining options at Dubai Mall so considering its your first night out, this is a great place to eat.
They have everything from cafe's to fine dining and I'm sure you will find something to suit your taste and budget.
Check out Dubai Mall's dining page for the list of all the options available to you. If you are after something lighter try Charleys Philly Steaks or one of my favourites Gia, which is an Italian restaurant on the ground floor. Just remember to book Gia if you want to view the fountains. They will book you a table looking out over the fountain but they aren't always available at the last minute.
---
Day 2: Dubai Itinerary
Morning Day 2: Half Day Desert Safari and Falcon Experience
On day two, it's time to head out of the city and into the desert. Experience the thrill of a lifetime with a desert safari, complete with dune bashing, a camel ride or even a stunning hot air balloon ride.
You'll also get the chance to experience traditional falconry, a popular activity among the Bedouins of the area. If you choose an afternoon option, after your desert adventure, you can relax and enjoy a traditional dinner at a Bedouin-style camp in the desert.
There are heaps of desert experiences on offer in the UAE, however I can highly recommend an early morning Balloon flight. It is an early start for sure, but it is a once in a lifetime experience, especially if you choose the option that enables you to do a camel ride and learn about the falcon masters.
Tours for a Desert Trip and Falcon Experience
If you decide that the early morning trip is not for you, any tour you choose will probably take most of the day. By the time you are picked up, do the tour and return to your hotel, you will find that most of the day is gone.
I would recommend not planning any other tours on this day just to be sure you don't miss your second pickup time.
Afternoon Day 2:
After your early morning balloon flight (if you choose this option), you can enjoy an afternoon of RnR around your hotel's pool. Don't discount the value of spending a few hours resting as Dubai can get really hot and is known to sap your energy if you aren't careful.
POSSIBLE EDITS FOR THIS DAY
You might like to go in the afternoon and do a camel ride before having dinner at Al Khayma Camp. This will give you the morning to relax and still enable you to have a great desert experience.
Evening Day 2: Walk Dubai Water Canal
Dubai Water Canal walk is a lovely way to wander along the waterway and see the skyline of Dubai. The walk is able to be done from either side of the canal and is either 3.2 or 6.4km depending on if you walk both sides or just one.
There are multiple foot bridges to cross the canal and boats are always up and down the river enabling you to jump on and cross if you wish.
If you start at Al Habtoor City end you can walk the canal to Jumeirah. Alternatively if you start out at Jumeirah walking back in toward the city will mean you can finish at Al Habtoor City and possibly catch the La Perle by Dragone show. The best way to describe the show is that it's very Cirque du Soleil in style.
Prices for La Perle vary depending on the seating category. They start at $70 USD per person, and go up to $220 USD each for VIP seats. You can also book a dinner and show package which is currently priced at $110 USD per person. You get a choice from 4 restaurants in Al Habtoor City which gives you heaps of options. You can choose from World Cut, Le Patio, Il Pastaio or BQ and Babiole.
Prices can be dependant on the restaurant you choose.
POSSIBLE EDITS FOR THIS EVENING
You might like to do a dinner cruise instead of walking the canal yourself. This can be a great way to see the lights of the city while relaxing with a wine or two.
A really cool thing you will experience doing a river cruise is that the fountain on one of the bridges actually senses when a boat is going underneath and turns off! It seems like nothing but its pretty cool.
---
Day 3: Dubai Itinerary
On day three, it's time to explore the city's cultural and historical sites.
Day 3: Dubai Sightseeing Tour – Dubai Creek, Old Dubai, The Gold Souk and other sites
Start the day with a sightseeing tour of Dubai, where you'll get to see some of the city's most iconic landmarks. There are many tours that showcase Old Dubai including the Gold Souk, which is a must visit for sure. It is a traditional market where you can find a wide selection of jewellery, from traditional designs to modern pieces.
Most of these tours will include visits to many other Dubai locations like the Dubai Frame, Zabeel Palace, The Harbour and of course the Burj Al Arab.
This tour is the one that we did last time and I was really happy with it. Availability is shown below:
Alternatively there are many walking tours of Old Dubai, the creek and the souks. If you have the time they are really worth it.
Walking Tours Of Old Dubai
---
About the author
Meet Jenny, a passionate Australian travel blogger who has explored 103 countries to date. With over 30 years of travel experience, Jenny has a wealth of knowledge to share with her readers about the cultures, landscapes, and people she has encountered on her journeys. She's always battling unfashionably frizzy hair and you will never catch Jenny in anything but comfortable shoes. Learn more about Jenny and her travels.
---
Day 4: Dubai Itinerary
On day 4 it is time to take to the water. Whether you do a luxury cruise and see Dubai from the water or whether you simply do a speed boat tour, spending time on the water is a great way to spend a day in Dubai.
You are able to do cruises from just an hour to a full day, with many offering either lunch or dinner as part of the package.
Day 4: Morning or Afternoon Jet Ski, Luxury Cruise or Speed Boat Tour
This speedboat option is only 1-2 hours which will give you time to spend at the beach or participate in another water based adventure.
Rigid inflatable boats pick you up and take you out of the marina cruising the Dubai coastline. You get to see Palm Jumeirah, the Atlantis Hotel, The Burj Al Arab and all the hotels that line this strip of beach.
Dubai Speed Boat Tour
Check availability for this 2 hour speed boat tour from Dubai Marina.
Dubai Jet Ski Tour
As an alternative you could do a 1-Hour Royal Atlantis Jet Ski Tour. There are many companies that do Jet Ski tours in Dubai so you have options with regards to price and time frames.
Dubai Luxury Boat Tour
Finally, there is also the option to do a luxury boat tour. These trips are typically longer than the Jet Ski or Speedboat trips but are way more casual and no effort is required on your part.
Options include boats with slides and water toys that are more focused on a fun day on the water. Or there are more luxury vessels that offer a calmer cruising day with a BBQ lunch as an add on.
POSSIBLE EDITS FOR TODAY
If you wanted to spend less time in the water but have a more thrilling adventure, consider the fly boarding or the wake boarding. Alternatively to get out into the ocean and have a snorkel, check out the Musandam full day from Dubai.
Day 4: Evening and Dinner
Its time to get high above Dubai!
Why not have a Dinner In The Sky while you are in Dubai? This unique dining perspective is pretty interesting and not for the faint hearted. Book early to avoid missing out! Starting at around $200 USD this could be the perfect place to wind up your 5 day Dubai Itinerary.
---
Day 5: Dubai Itinerary
On your last day in Dubai, it's time to indulge in some rest and relaxation. Start the day with a luxury spa experience at one of Dubai's world-class spas. Enjoy a massage, facial, or body treatment and feel your worries melt away. Afterward, you can take a leisurely stroll along the Dubai Creek or take a boat ride to enjoy the sunset.
Day 5: Have an Indulgent Spa Day
Dubai is the place to spend a full day kicking back in a luxury spa. There are many choices of spa styles and locations so you will be able to find something to suit you for sure.
Book A Spa Day In Dubai
POSSIBLE EDITS FOR TODAY
If you are up for a beach day instead of a spa, consider booking this amazing trip out to Lebanon in Dubai's "World Islands" chain and spending the day sunbaking and relaxing in the pristine beaches and ocean.
This tour includes return transfers to and from Jumeirah and you could get to be one of the first people you know to spend a day on a man made island in the bay of Dubai!
---
Tips for Visiting Dubai
Before you head off for your trip to Dubai, there are a few things you should know. Firstly, it's important to remember that Dubai is a Muslim city, so it's important to dress modestly and respect local customs.
Secondly, the city is very hot and humid during the summer months, so it's important to stay hydrated and make sure you have plenty of sunscreen.
My third tip for visiting Dubai is to make sure you get enough down time. There is so much to do in the city but it's always warm and its easy to get very tired. Make sure you allocate a few hours each day to get some rest in. If you don't you will find yourself tired and cranky in no time.
Finally, make sure to take advantage of the city's many free attractions, such as the Dubai Fountain and the Dubai Creek.
---
Accommodation in Dubai
When it comes to accommodation, Dubai has something to suit every budget and taste. From luxurious 5-star resorts to budget-friendly hotels, the city has something to suit every traveler. Popular luxury resorts include the Burj Al Arab and the Atlantis The Palm, while budget-friendly hotels include the Rove La Mer Beach Hotel, Jumeirah and the Occidental Al Jaddaf in Dubai City.
My personal favourite is the Meydan Hotel. We LOVE that place. It is actually the hotel at the race course in Dubai, however as long as you book outside of race days it can be really affordable and is a beautiful hotel. Read my review of the Meydan Hotel or book via Booking.com.
You used to be able to get it on sale for as little as $220 AUD per night but those pre-covid prices are long gone. On average its around $285 USD per night so its not super cheap but the breakfast is amazing, the staff are super attentive and the pool is DIVINE!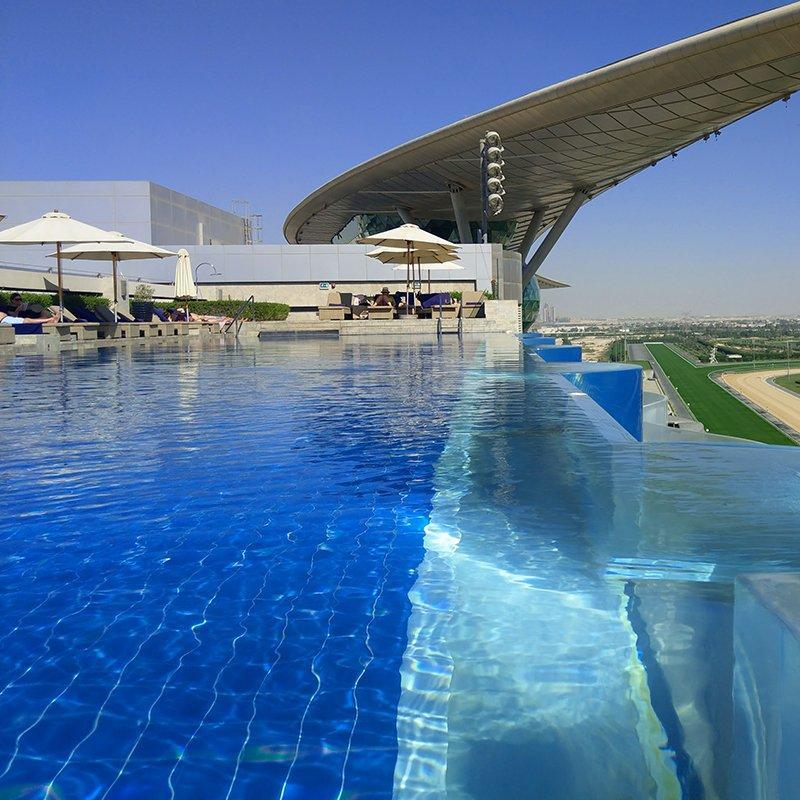 ---
Getting Around Dubai
Exploring Dubai efficiently over 5 days requires a mix of transportation methods due to its sprawling layout and diverse attractions. Here's a guide to getting around Dubai for your vacation:
Metro: Dubai's metro is efficient, affordable, and connects major attractions. It's ideal for long distances and avoiding traffic. Key spots like the Dubai Mall, Burj Khalifa, and the Marina are easily accessible by metro.
Taxis: For convenience and comfort, taxis are a great option. They're reasonably priced and available everywhere. They're especially useful for destinations not directly served by the metro, or over the summer months when walking in the heat is just not possible.
Tram and Monorail: Use the tram for areas around the Marina and JBR. The monorail is the only way to reach Atlantis the Palm by public transport and offers great views.
Buses: Buses are a cost-effective way to travel, although they can be slower due to traffic. They cover areas not accessible by the metro and will give you a much more local experience.
Rental Car: If you're comfortable driving in a new city, renting a car offers flexibility. It's particularly useful for day trips outside the city, like to Abu Dhabi or the desert. I wouldn't personally hire a car in Dubai. The parking isn't cheap and to be honest you can get everywhere you need to go easily so I think it is money you just don't need to spend.
Walking: In cooler months, walking is pleasant in pedestrian-friendly areas like Dubai Marina, JBR, and the historic Al Fahidi neighborhood.
Abra (Water Taxi): For a traditional experience, use an Abra to cross Dubai Creek between Deira and Bur Dubai.
Hop-On Hop-Off Bus Tours: These tours offer a good overview of the city with the flexibility to explore major sights at your own pace. These are often my personal favourite. Buy a 2 day (or 48 hour) Dubai Hop On Hop Off Bus Pass and use it for the 2 days you wish to be on the go and seeing a lot of the sights.
---
---
Other Dubai Attractions You Might Like to Visit
You could insert any of these Dubai attractions into your itinerary at any point. Dubai has so much to see and do that you could stay for weeks and not experience everything this great UAE city has to offer.
Ski Dubai
Book your ski pass here for Dubai's indoor ski park.
Burj Al Arab
Spend an afternoon at Burj Al Arab Terrace poolside. Aprox $215 USD M~Th and $270 USD F~S with half of that credit against food and bev.
Mall Of The Emirates
Another great shopping centre, Mall Of The Emirates has shops, restaurants and a cinema.
Skydive Dubai
Feeling care free? Why not skydive while you are in Dubai? Check out Skydive Dubai for options. OR: be brave abd get your first lesson on a Gyrocopter!
---
Wrapping Up: 5 Day Itinerary for Dubai
Dubai is a bustling city with something to offer everyone. From world-class shopping and fine dining to desert safaris and traditional souks, you'll never run out of things to do in this amazing city.
This 5-day itinerary is designed to help you make the most of your time in Dubai, from luxurious spas and sightseeing tours to shopping trips and desert safaris. So what are you waiting for? Start planning your Dubai adventure today!
You won't regret it!
---