14 Day Hikes To Love In New Zealand
Are you planning to visit New Zealand but still don't know where to head first? The dilemma can be overwhelming and if you dare to question people they will often answer by telling you either go to Auckland or Wellington but New Zealand has WAY more to offer to you.
The place is best known for tramping (the Kiwi term for hiking), so why not make the most out of it by visiting the best day hikes in New Zealand.
It's one of the most beautiful destinations on the planet, with official trails, national parks, and a plethora of New Zealand's best hikes strewn around the islands. Here I am going to mention hikes on both the south and north islands. So, without any further ado, let's jump to the hiking part.
Best Day Hikes On New Zealand's South Island
The South Island of New Zealand is one of the most amazing environments on earth. It not only has stunningly beautiful scenery, but also plenty of hiking and trekking opportunities to put you smack bang in the middle of this stunning landscape. If you are a hiker, you know it's all about getting outside and breathing some clean, unpolluted air. Hiking in New Zealand's South Island is a fantasy come true for outdoor enthusiasts. Some of the places to visit on the South Island are:
Ben Lomond
A famous South Island trail, Ben Lomand is one of the finest days walks near Queenstown. This trail begins in the heart of Queenstown and finishes at Ben Lomond Mountain's summit. It takes a total of 8 hours to complete and if you are up for challenges then this walk is definitely for you. The summit has breath-taking views of the Mountain Range to the southeast, as well as Walter and Cecil Peak across Lake Wakatipu to the south. To the west, there is Moke Lake, and to the north, there are several valleys and canyons.
My Rating: Tough. I did love the walk but I did wonder exactly why I was doing it at one point.
Elevation:Start to Summit: 1350m and you feel every one. Then of course you have to come down on your lovely wobbly legs. It doesn't feel super steep but it is relentlessly up.
---
Isthmus Peak
The next on our list is Isthmus Peak which is situated between Lake Wanaka and Lake Hawea on a narrow strip of land. It's a gentle incline for the majority of the way although the last push to the summit is much steeper than it looks on the map. Once you are on the summit, you travel along a reasonably level ridgeline. Throughout the walk, you will have views of Lake Hawea, with just a few trees interfering with the views. You won't be able to see Lake Wanaka in all of its beauty until you're close to the top. Summer is the ideal opportunity to go hiking. Snow covers the peaks in the winter, making it more difficult and, of course, colder. It took us about 6 hours to complete, with probably 40 minutes eating out lunch at the top. I'm not fast especially up hills but even though it is a tough walk I never had that "far out can I do this" feeling.
My Rating: Tough but doable. Ben Lomand really kicked my butt but while this wasn't a walk in the park I found it quite a bit easier. It is a pretty barren landscape though.
Elevation:Start to Summit: 1000m and but there are quite a few switchbacks which makes it feel easier.
---
Hooker Valley Walk
Because of its convenient access along the Hooker River and spectacular scenery, the Hooker Valley Track in Mount Cook National Park is among the easiest day hikes on New Zealand's South Island. The path begins at the White Horse Hill Campsite and climbs just 100 meters, making it ideal for people of all physical conditioning. During the hot summer months, the trail can get very crowded, so leave early or late in the afternoon to escape the crowds. It is 10.5 kilometers, will take around 3 to 4 hours to finish and the weather can get a little cold so it is best to pack extra clothes.
The trail is a mix of trail, boardwalks and the odd bridge or two (sorry I can't for the life of me remember if there was more than one bridge! Old age is getting me!)
My Rating: Easy and with some stunning landscapes. The lakes in the distance at the end sometimes have iceburgs!
Elevation: Start to Hooker Lake: 120m and there are a couple of places to stop for a rest.
---
Alex Knob Track
I found this trail on the difficult side, but it offers spectacular views of once you are up onto Alex Knob. Turn left onto the Glacier Access Road for 2 km, where the Alex Knob track starts, signposted on the right side of the road, from the Franz Josef Waiau township. There are a few car parking spots where you can park your car if you have driven. You'll be hiking on narrow single-track through a thick native brush for the first three miles, with some tight winding trails to help with the climb. There is a fantastic view of the glacier that makes it all worth while.
The day we did this is was a light misting rain all day so was a little slippery. The maps say its 15km but my tracker said 18km by the time we got back to the car.
My Rating: Moderate-Tough but It weirdly feels steeper than it is on occasion but I think that is because of the alpine feel of the forest.
Elevation: Start to Hooker Lake: 1080m but its over 7.5km so it doesn't feel that steep. The alpine forest does make you feel you are higher than you actually are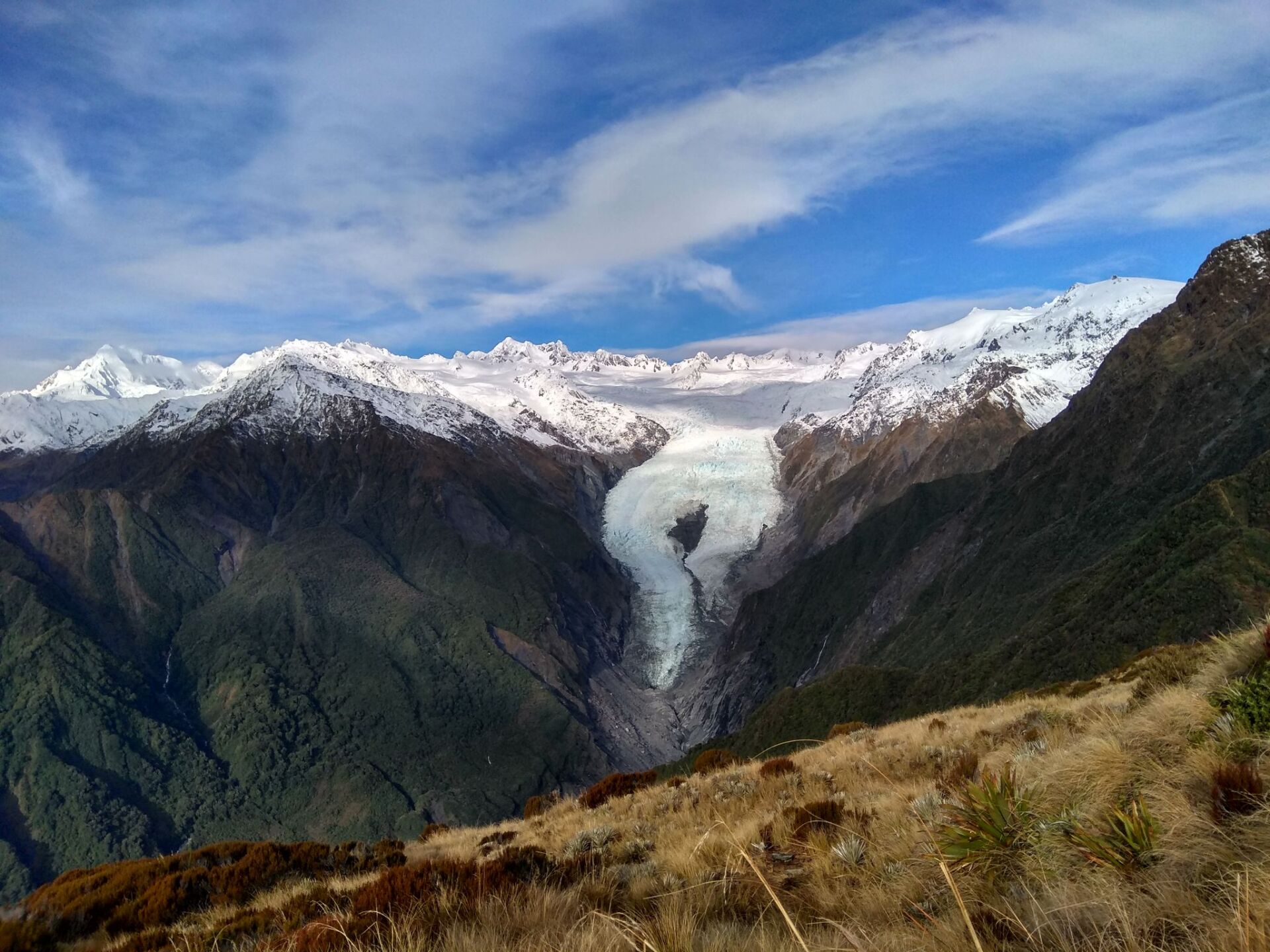 ---
Upper Clutha River Track, Central Otago
From Wanaka township, you can walk or ride to the beginning of Clutha, the South Island's largest canal. From there, you can walk the entire 27km distance of the track or only parts of it. The path runs all the way to Albert Town along the riverbank. With endless views of the Clutha's emerald-green lake, the occasional trout hiding in the background, and the slightly sweet scent of the manuka trees. It takes 6.5 hours to finish. The track is around 13.5 km each way so out and back does total around 27km. There is one hill at the Albert Town end and a few little ones here and there but overall its mostly pretty flat.
My Rating: Easy and a nice walk, however be aware that it is popular with cyclists so keep your ears open for them.
Elevation: Just over 370m but it feels way easier than that.
---
Robert's Point Track, West Coast
Robert's Point Track is a 10.8-kilometre out-and-back path with near Franz Josef on New Zealand's West Coast. It is graded as challenging while its not super tough, it can get very slippery especially in under the cover of the trees. The steps on and off the bridges can also get very slippery if the chicken wire has torn off. Be careful there. The trail is open all year and is popular for climbing, running nature trips, and birding. Fantastic walk with a great view of the glacier. There are a few suspended bridges and a collection of waterfalls that run for most of the year.
My Rating:Moderate to Hard. The path is great but there are some steep sections and it can get very slippery.
Elevation: Just over 530 meters and some of that is in specific steep sections.
---
Lake Rotoiti Circuit, Nelson
The breath taking landscape of Nelson Lakes National Park's Lake Rotoiti varies with the seasons, from bright red and golden hues in fall to a blanket of snow that covers the lake in a cool hug in winter. Lake Rotoiti is one of 16 lakes in the Nelson Lakes National Park and is widely obtainable from the alpine village of St Arnaud. It is surrounded by manuka and kanuka trees. There is a series of foot trails across the lake that can be enjoyed by persons of different ages and skills if you have a few hours to spend or a whole day to explore. The Lake Rotoiti Circuit is a longer trail at 27km, however apart from one steeper section is mostly small undulating ups and downs for most of the trail. There are heaps of places to stop for a picnic lunch or alternatively you could get a water taxi out to the end of the lake and walk back. You do have to cross the river which isn't usually too high, but this is New Zealand – river crossings need care! There is a swing bridge north of Lakehead Hut if you wanted to not wade the river, but that does at around 3 hours to the walk. It is a very pretty trail and the path is solid the entire way.
My Rating: Easy but long and it does get a little boring toward the end I must admit!
Elevation: Just over 740 meters but that is mostly concentrated in a few steeper sections. Its up and down the whole way to the elevation is very spread out over the walk. Nothing to be concerned about.
---
Mueller Hut Route, Mount Cook National Park
At just under 10km this route is a great way to see some of New Zealand's epic glaciers and views. Its a tough hike with about 2300 steps, loose scree and many many rocks. It is only around 4.5km to the hut but do not underestimate the time it could take you. We took almost 4 hours to get up (including breaks and photo stops). You can stay overnight at Mueller hut but you do have to book.
My Rating: Brutal but amazing. I hate scree with a passion so I'm super slow over anything loose. The stairs I could cope with the the loose stuff is awful for me especially coming down.
Elevation: Just over 1000 meters and you feel every one.
---
Best Day Hikes On The North Island
The North Island of New Zealand has several unique topographical and geological characteristics, but it is mostly ignored in favour of the more rugged South Island when it comes to hiking. The North Island's trails are often quieter and rougher. Some of the best places to visit on the North Island are mentioned below.
The Tongariro Alpine Crossing
On the North Island of New Zealand, this might be the best day hike they have. The Tongariro Crossing is a 19.4-kilometre trek over the central highlands' volcanic plateau. The Devil's Staircase, the three Emerald Lakes, the Red Crater, and, of course, Mount Tongariro and Mount Ngauruhoe are highlights along the way. It will take around 6 to 8 hours to complete and as it is an end to end track you will have to organise transport. Please don't leave your car at one end as those car parks have a 4 hour time limit and are meant for walkers doing shorter trails. The Tongariro Alpine Crossing website has transport options listed.
My Rating: Tough. Don't let the elevation map in All Trails fool you. There is around 1100 meters in elevation change and while there are more than a couple of flat sections, mostly it is a tough hike.
Elevation: 1100ish meters but considering the flatter sections, the climbs can be pretty steep. Please be aware that the weather on this track is notoriously unpredictable and can be nasty. Check on the weather and make sure you have gear for all possibilities.
---
Te Whara Track
The Te Whara Track starts off with a steep ascent to the ridge. However, from there, the path becomes more gentle when you pass through some of the North Island's most beautiful coastal forests. Hikers are met with great views that range from Cape Brett in the north to Cape Rodney in the south from the Te Whara Head peak. The area's offshore islands scatter the skyline on a sunny day. It takes around 5 to 6 hours to finish. At only 7.5km it is possible to walk to both ways for a longer hike.
My Rating: Moderate and a great track but it can get very windy. A lot of people walk it West to East which is mostly to avoid the stairs at the Urquharts Bay end.
Elevation: Just over 600m but it feels easier than that.
---
Opua to Paihia Walkway
This is one of the best easy hikes on North Island, where you will get to see some great coastline. The walk is 14.2 km long and has two routes. It takes around 3 hours to finish. If you take the Paihia to Opua option then you can finish it in 3 hours. It is an out and back trail so if you get to Paihia and have had enough, jump in an Uber to get back. On the other side of the bay is the Okiato to Russell trail which is 9.5km one way. You walk across the land mass from Okiato and then follow the coast for most of the way to Russell.
My Rating: Easy. Very Easy actually.
Elevation: Negligible. The Okiato to Russell trail does have some steps and a little bit of elevation change here and there but no more than maybe 100 meters.
---
Coast to Coast Walk, Auckland
The Coast to Coast Walkway is a perfect way to see a lot of what Auckland has to offer. It takes you through multiple suburbs, parks and even up to a lookout at Mt Eden where you get 360 degree views out over Auckland City. You'll even be able to brag to your mates about walking across New Zealand in a day. The walk literally takes you from the east coast of Auckland to the west coast. It takes 4 to 5 hours to complete, but could take all day if you stop for coffee and lunch.
My Rating: Easy. My recommendation would be to pack a picnic lunch that you could have in Cornwall Park. This is a great stop along the way and if you walk from the harbour in Auckland is about two thirds of the way.
Elevation: All trails tells me its 400m but it doesn't feel like that at all. Its a nice flat walk with a bit of hills here and there.
---
Te Aroha Summit Track, Hamilton
The well-defined trail begins at the Mokena Geyser in Te Aroha Domain and leads to the summit, which provides magnificent 360-degree views of the Waikato and Bay of Plenty.
On a clear day, Mt Taranaki and Mt Ruapehu can be seen. Te Aroha is conveniently located between Hamilton, Paeroa and Waihi. I have to say that this hike kicked my butt! It was heaps steeper than I expected and even though some signs say its suitable for children, I would say no. There is a LOT OF STEPS and they aren't always nice timber stairs. Some are quite widely spaced so not something you can just keep turning your legs over for. They do require that you haul yourself up them in places so be aware its not an easy hike.
My Rating: Tough!! I felt like Indiana Jones at one point with the tree roots. I just didn't expect it to be so steep. The view is decent but not amazing.
Elevation: All trails says 930 and it is every bit of that. If you have hiking poles take them. The down was awful on my knee!
---
Coromandal Coastal Walkway
This beautiful walk takes 3.5 hours in one direction and allows you to fully appreciate the scenic Coromandel Peninsula's natural beauty and solitude. The trail has a gentle incline with a small steep segment leading to and from Poley Bay. While it is only 6.8km and not overly steep at any point, it does seem to take longer than you expect.
While I loved this hike and the Coromandel Peninsular is stunning, Fletcher Bay where you start the trail isn't near anywhere so you would most likely only look at this trail if you are staying in the area.
My Rating: Easy to Moderate. The drive to Fletcher Bay seemed harder than the hike.
Elevation: Only around 330 meters so doable for almost anyone.
---
Of course there are many more great day hikes in New Zealand but these are just a selection and the ones I've loved. Don't forget that hiking in New Zealand is called Tramping, so when the locals ask where you are "tramping to" that's what they mean.
Essential Tips for a Hiking (Tramping) Trip In New Zealand
Now coming to our most important section which is keeping safety measures in check while tramping in New Zealand. No matter how much fun it sounds, it is always the best idea to keep yourself prepared for the worst. Below we are going to point out things you should have with you while tramping.
1. HIKING BOOTS OR SHOES – Going on a hike without hiking footwear is like bringing a knife to a gunfight. Hiking boots, shoes or trail runners are essential while hiking, especially in New Zealand where you will experience all types of trail conditions. It will help you travel greater distances without any difficulty and a great pair or trail shoes or boots will have much better grip than simple sports shoes, dry quicker (trail runners that is) protect your feet from the rough terrain and if you are a boot lover, help to support your ankles.
2. SANDFLY CREAM OR BUG SPRAY – It is important to carry bug spray and sand-fly cream. Sand-flies are the worst and can actually cause blisters if they get in around your ankles. To avoid that it is important to have great insect cream or spray and as much as I don't like to admit it, DEET based products do seem to work best for me.
3. FIRST AID KIT – Carrying a small first aid kit is never a bad idea while tramping. In case of any lesser challenge you can use what's in your kit and keep yourself safe. While you won't need a snake bite kit in New Zealand like you do in Australia, some pain medication, a pressure bandage and gauze pads will get you by for misc cuts, scrapes and the odd rolled ankle. An absolute must for any NZ hiking first aid kit is a thermal blanket. These weigh nothing and in New Zealand where the weather turns on a dime, it should be the basis for your first aid kit.
4. ESSENTIAL CLOTHES – The weather in New Zealand can change so drastically, it's critical to be prepared at all times. While you could be hot while hiking, once you stop moving and the sun sets, it can be very cold. Bring thermals, a light weight puffer, a rain jacket and pants and a hat or beanie just in case. Being prepared for an overnight stay can save your life in New Zealand. While no-one might be planning for that, what if you get hurt and have to wait for emergency crews?
5. CAMERA – The hiking in New Zealand is almost always based around views. Your camera or phone will be an essential part of your hike.
6. EMERGENCY PLB FOR MORE REMOTE HIKES – These PLB's are literally life savers. Fortunately I've never needed mine for myself but I've used it twice for others that were hurt with no way of calling for help. Do not rely on your phone. Reception is NOT everywhere as you might think it is and if you are sitting in a river bed with a dislocated ankle and no phone, you have no way to get out. They are an expense but compared to being stuck in a remote location possibly for days- they are cheap as chips!
---
The Bottom Line On The Best 14 Day Hikes in NZ
There you go! This is my take on the 14 best day hikes in New Zealand. I understand it can be a little overwhelming if you don't have much idea about the place you are visiting, which is exactly why I have compiled a suitable guide of some amazing day hikes in New Zealand
So what's stopping you now? Go and give this a try. Don't forget to let me know all about your hiking experience in the comments section.
---