Australia In Winter – My top 12 things to do.
Are you planning a trip to Australia during the winter season?

There are many reasons to visit Australia during the winter season. Australia is a beautiful destination for leisure and business travellers however while we have the distinction of being the sixth largest country and the smallest continent in the world, Australia is HUGE if you are trying to see a lot of it.

While Australia is famous for its cities such as Cairns, Brisbane, Melbourne, Adelaide, Sydney, and Perth, it's also a place that offers an incredible variety of flora and fauna. From the mountains to the oceans, one can experience sights and sounds that can't be witnessed anywhere else on earth.

If spending more than 10 hours on a plane sounds like a version of hell, then you'll want to be sure you land somewhere amazing. Of course, if you're stepping off that plane in Australia, then you have nothing to worry about.
Australia offers some of the most breath-taking sights, fabulous cities, and stunning beaches in the world and it is impossible to list all the reasons to visit Australia in winter, so here is my list of the 10 reasons to visit Australia in winter. Of course, this list is based around my followers who are mostly over 40, female solo travelers, people who love adventure and getting out into the bush (that's what we call the forest in Australia) so it is based around things I think you will love to do and see, Of course, I could go on and list thousands of things to do and see in Australia, but these are the ones I personally think you shouldn't miss. Particularly in winter.
---
The Southern States Of Australia Winter Activities
Explore the great ocean road
The winter season in Australia might be a little too cold for diving or snorkeling in the southern states (but is the perfect season in the north of Australia), however, that doesn't mean you can't enjoy the picturesque coastline.
Exploring Great Ocean Road is the perfect way to introduce yourself to Australia. Witness rocky peaks, sandy beaches, and turquoise waters. It doesn't have to be a drive yourself trip either. Book a tour from the box below and witness an amazing drive around the Great Ocean Road with a visit to two of Australia's national parks and the chance to see Koalas. If you would like to drive yourself, check out Great Otway National Park and Port Campbell National Park, where you can witness the Twelve Apostles landmark. Admire the 8, 70-meter high cliffs that dot the shore.
NB: Hire cars are very expensive in Australia right now so a tour might be your best and cheapest option.
There was originally 12, however, there are only 8 left standing as over time some have eroded and 4 of the 12 apostles have fallen into the ocean.
We were actually there one day in 2005 when one collapsed. It was one of those "is that supposed to happen??" moments.
Great Ocean Road Tours From Melbourne
---
Soak in the Mornington Peninsula Hot Springs
Make your way to the Mornington Peninsula an hour or so from central Melbourne, knowing that despite the cool weather you will be incredibly warm in the peninsula's hot springs. Sit in the springs and indulge yourself in the warm water surrounded by beautiful lush gardens. There is a natural thermal mineral-water that flows into the swimming pools and private baths which creates an idyllic environment.
Visitors are advised to book an excursion from Melbourne combining not only the natural hot springs but also wineries and vineyards. During your visit, you could find yourself at the Enchanted Adventure Garden, where you can challenge your friends to a race through a maze of hedges and end the day at the Montalto Winery for a wine tasting.
If you are feeling really brave – a two hour seal swim is also an option. OMG no amount of wetsuit thickness could entice me into that cold water, but people do it all the time so I'm sure its not that cold!
Mornington Peninsular Hot Springs Trips
---
Hike snow-dusted trails in Tasmania
Winter can get cold in Tassie, but it's a great time of year to get out and experience all that Tasmania has to offer. If you are an experienced winter hiker, head to Cradle Mountain-Lake St. Clair National Park's snow-covered trails for hiking, and hopefully a glimpse of the southern lights along the way.
Don't be fooled into thinking that because its Australia the weather will be mild. You MUST be a very experienced winter hiker to make the most of the trails at this time of the year. Check with the local authorities for conditions and the weather forecast. It can be stunningly crisp and clear and in a few hours a storm can roll through that will bury you in snow or try to blow you off the mountain. Do not take this area lightly. The weather can be wild. I've been in this area in February which is the peak of the Australian summer and it didn't get above 4 degrees (celsius) in the middle of the day. They don't call it the Wild Rivers for nothing.
It is also the time of year to attend some of the best festivals and events Tasmania has to offer. Tourists can head to Hobart for the Dark Mofo Mid-Winter Festival. The main highlights include the winter festival for gourmet foodies and nude swimming at the winter solstice. I dare you!
---
Central Australia Winter Activities
Visit Uluru, Kata Tjuta & Kings Canyon
Winter is the only time you would really visit Uluru, Kata TJata and Kings Canyon. The weather in the summer can crack 50 degrees celsius which would make your day pretty brutal. The flies could also carry you away in the summer, so winter is definitely the best time to go.
Uluru is a popular destination not only international visitors, but also for domestic tourism in Australia. It was previously known as Ayers Rock however it went back to the Indigenous name quite a few years ago now. Uluru is known as a sacred site for our Australian indigenous people and finally in October of 2019 climbing the rock was banned. Yay!
The rock is said to be 550 million years old and less than 20% is visible above the earths surface. It's worth seeing at any time or season however the winter sunsets are amazing. You can also do the iconic Field Of LIghts tour when Uluru becomes illuminated by thousands of twinkling and colourful lights after dark. Walks around the base of the rock are an option as are trips to Kata Tjuta (what used to be called The Olgas) along with some Indigenous experiences. This can be the best time to visit central Australia and its not hard to make the most of it.
Two day tours from Alice Springs are shown in the box below or of course if you are already at Uluru you can choose from a variety of day tours.
Day Tours To Uluru From Alice Springs
---
Defrost in Darwin And The Top End
While Tassie, Victoria and South Australia can be freezing in winter, it is the dry season in Darwin and the top end which brings warm sunny days and coolish nights. The perfect time to check out Darwin's many exciting attractions.
Check out Mindil Beach Sunset Markets, the crocodile cage swims, or an open-air movie in the Deck Chair Cinema. If you are up for a drive, travel through 115km of evolving landscape south to Buley Rockhole in Litchfield National Park to frolic in a series of interconnected pools of clear water. There are of course many tour options to Litchfield and Kakadu as well.
Get Your Guide offers heaps of Darwin day trips and tours.
---
The West – Australia's Northern Winter!
Explore Broome
Yes I meant that exclamation mark. Personally I think the north west of WA is just stunning.
As a tourist, if a winter wonderland is not your idea of a relaxing holiday, then head to Australia's remote Kimberley region for balmy weather that will defrost those extremities. As winter is the dry season up here, it is the perfect time to visit this stunning part of Australia.
You might take a flight to the Bungle Ranges, cruise the coastline or escape to luxurious El Questro Homestead. Do not miss Broome's pearl farms and if you are a photographer you might like to investigate the dates that The Staircase to the Moon will be in effect. I myself don't find it to be super exciting, however during every full moon (i.e. from March to October) on the right low tide, after the moon rises, its light reflects off the exposed mudflats of Roebuck Bay, creating a "staircase" that leads up to the heavens. This is an ultimate romantic way to end an evening in Australia. Broome itself isn't a pretty town but Cable beach is beautiful and Broome is a great jump-off point for lots of great Australian adventures.
---
Experience the vibrant city of Perth and the surrounding regions
Start your winter adventures in Western Australia's capital city with Perth City Winter Fest which features a wide range of free and ticketed events that you can take advantage of Perth's sunny winter days.
This is regarded as a great time of year to head south to the Margaret River region to celebrate the truffle season in Australia. One of the most revered delicacies such as the black Périgord truffle is in season in Manjimup from June to September. You can join a hunt for the prized fungus and also take a cooking class or enjoy a themed degustation dinner paired with the region's finest wines.
While personally I love the summer in the south west it can be very hot and windy so if you are after a more "sitting by the fire" type of experience, road tripping in the south west can be a great way to spend a few weeks in that region. Visit the Kauri forests in Pemberton region, walk the 1.8 km's of the Bussleton Jetty, swim with dolphins, surf, visit wineries, hike, camp – the list is endless for what you can do in the south west.
Australia's South West or WA's South West web pages will help you to plan your adventures.
Day Tours from Margaret River or Dunsborough
---
Do the mid west coast drive from Perth to Exmouth
Hire a 4wd and head north from Perth to Exmouth.
Area's like Kalbarri, Carnarvon, The Coral Coast and Ningaloo Reef are some of the most unique australian ocean front you will ever see. Swimming with friendly whale sharks and humpback whales on their migration off Coral Bay might be one of the best experiences you ever have.
You can keep going as far north as time allows or just do the Perth to Exmouth leg which will give you exposure to a side of Australia that many Australian's haven't seen.
Honestly this is one part of Australia that I always recommend. It is so different to what you will otherwise see and while Ningaloo Reef isn't the bright corals that the Great Barrier Reef is, you might see a Djugong (our Manatee's) and even have one follow you for a while, which has happened to me more than once on that coastline. They are so cute and so inquisitive so while initially their size can be daunting, they won't hurt you at all.
Australia's Coral Coast website will help you to plan your trip.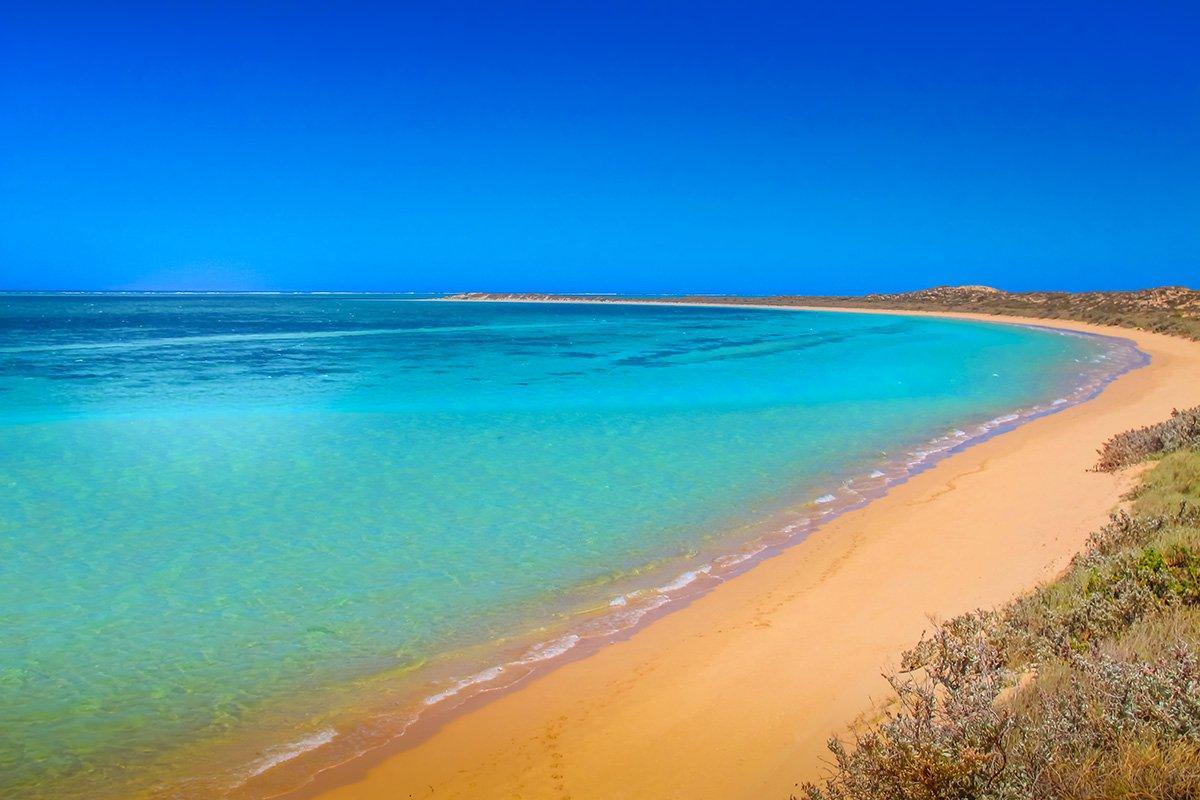 ---
Sydney Area Things To Do In Winter
Test Your Nerves with SKYWALK at Sydney Tower Australia.
The city of Sydney in Australia is just as beautiful in winter as it is in summer, so it is easy to take advantage of all that Sydney has to offer.
Check out Australia's tallest observation tower, where you can enjoy breath-taking views of the city, including major icons such as the Sydney Harbour Bridge and Circular Quay. If you are looking to improve your Instagram game harnessing up and doing the SKYWALK should be on your list for Sydney. Get Skywalk tickets early to avoid missing the time and date you would like.
---
Bridge Climb Sydney
Sydney Harbour Bridge Climb is in my opinion a must do for all visitors to Sydney. They have multiple options so even for the most unfit of us, as long as you can walk up 1000 stairs, you can do it! Don't be scared, they take their time and honestly it doesn't feel like 1000 stairs.
They do have conditions, however it is really worth it, so even if you have to do some training in the weeks leading up to it, it will be worth it. Their oldest climber was 100! View their FAQ page if you have concerns.
---
Do A Dinner Sydney Harbour Cruise
There are many companies that offer dinner cruises on Sydney Harbour and a few are listed below. A day cruise tends to use vessels with more outdoor seating which might not be perfect in winter, however the dinner cruises are specifically all inside so you will be protected from the weather should it be cold. Of course you can head outside and take some photos of one of the most famous harbours in the world, but there is no need to be out there if you don't wish to be.
Sydney Harbour Dinner Cruises
---
Take A Walk Around Sydney
Hike the Great Sydney Coastal walk from Barenjoey in the north to Cronulla in the south, all along Sydneys amazing coastline.
It's 200 kms long, however is one of Australia's only city based long walks.
You have the option of caravan parks to motels to luxury hotels as your nightly accommodation, and while the walk is split into sections you don't have to stick with those. As most of the coastline has holiday accommodation, you could do longer or shorter legs and still easily find a bed for the night. I've done this walk and it's amazing. You don't have to carry food or too much water (often no more than a litre) and no camping gear if you decide to take the motel or hostel option.
It's the ultimate slack packing Australian hike.
There are many many things to see and do in Sydney. The tours below should be fun and able to be completed without worrying about weather. Sydneys summer rain isn't a challenge, however rain in winter is freezing so best to be avoided.
Tours To Enjoy In Sydney In Winter
---
Atherton Tablelands North Queensland
Of course the far north region is best visited in winter and while you are in the north east of Australia you shouldn't miss the Great Barrier Reef, Port Douglas, The Daintree Rainforest, and Cape Tribulation all accessible from Cairns.
However, there is much more to the north than just the Cairns area. While Townsville isn't known for being a particularly pretty city, it is very much real Australia and a few days on Magnetic Island will force you to relax.
The tablelands around Atherton (west from Cairns) are very artsy and home to some of Australia's best creators. The tablelands can be quite cold in winter so don't make the mistake of leaving your jackets in Cairns. The days are stunning but the nights can get pretty cold. Yungaburra is a lovely little town, Atherton itself is worth a cafe stop, Chillagoe caves are worth a visit, you can visit the platypus park, see the curtain fig tree, visit war museums in Mareeba or take a balloon flight while you are there. Mareeba has over 300 days of sunshine a year and while it's not particularly picturesque, the ballooning is a great way to see the sunrise.
There are some great waterfalls and more than a few geological oddities to see. Atherton Tablelands website will help you plan your trip.
No trip around the tablelands is complete without a visit to Tinaroo Dam. Camping is the most popular pastime for locals from Cairns who descend on Tinaroo for waterskiing and wakeboarding every weekend. If you do decide to camp for a few nights and are a water skier, don't be scared to ask the locals if you could contribute some cash to their fuel bill for a ski. People up north are very friendly and we have on multiple occasions taken tourists out on our boat, who have by the end of the day, become firm friends.
Tubing on Lake Tinaroo sometime in the early 2000's
Atherton And The Tablelands Tours from Cairns
---
A Dozen Things To Do In Australia In Winter
Of course I could go on for pages, but these are the best things to add to your winter itinerary in Australia. From the outback to the coast, you can still enjoy the best things to do in winter Australia has to offer.
---