South Africa – A Must Visit Destination & 12 Reasons Why You Should Visit
South Africa has gained popularity on grounds of its good weather, natural beauty, and well-developed infrastructure. South Africa is referred to as the perfect destination to take safari holidays, especially if it is your first time to Africa and is also highly recommended for families. Not only can you experience an authentic big five safari in remote game reserves and famous national parks, but you can also take advantage of all the sightseeing opportunities including the cosmopolitan city of Cape Town, the beautiful Garden Route stretch, the stunning Cape Winelands, and historic sites like the KwaZulu Battlefields and Robben Island.
Below in this article, we will be discussing 12 of the best places in South Africa and why you should have South Africa in your bucket list.
---
Addo National Park
This is one of the many places available in South Africa with open vehicle game drives and this Eastern Cape location only 75km from Port Elizabeth makes it perfect for a safari holiday.
Addo National Park is fantastic for seeing Elephants in large numbers and is one place where I had the most amazing Rhino experience. My South Africa Guide explains the story behind that photo which is to this day one of my favourite photos from Africa. It is also the first place I saw a lion cub which was very exciting.
There are many locations around the part to stay from Avoca River Cabins at a very affordable $60 per night, however you will need a car to stay here. Chrislin African Lodge at around $120 per night is good value or you can splash out at Gorah Elephant camp for around $1400 per night. Let me know just how amazing this one is if you stay there as I'm never going to be able to afford that. I can however live vicariously in a private safari camp through you!
Day Trips To Addo Elephant Park
---
Hermanus, Western Cape Province.
This is also known as the world's best land-based whale watching destination. Southern Right whales visit Hermanus between May and December each year. They move north from Antarctica, drawn to the warmer waters along the South African coast and sheltered bay's calm waters to mate and calve. These gentle giants can be seen from the rocky shore or from a licensed charter boat that offers exhilarating whale watching from a boat. Observe them playing and breaching out of the water, actions that take your breath away from up close. September seems to draw the most visitors in, and this is also where you can catch the colourful Hermanus Whale Festival, a festival that celebrates the return of the whales.`
Day Trips Around Hermanus
---
Cape Town
The beautiful city of Cape Town is not only one of the most desirable cities in the world; it enjoys great weather and has some of the best restaurants and eateries in South Africa. While in Cape Town, a visit to Table Mountain is an absolute must, and whether you hike up or take the cable car, it is 100% worth it. I did the hike with this company and really liked that they had a maximum of 4 people. It does get steep and there is a section of scrambling and chains but as long as you take your time (which they pretty much insist on) if you have any kind of reasonable fitness you will be able to do it. Don't forget to check if the trip includes your cable car ticket down as it often doesn't. Be sure to book that as they sell out!
Robben Island is an interesting visit to learn more about Nelson Mandela's life there. You don't need to book a separate tour for this one as the island does really good tours. You should book though as it also sells out, especially in Cape Towns summer holiday season. There is a hop-on-hop off bus, penguin tours, shark cage diving (OMG so good!), a township tour or of course a day trip to the wineries at Stellenbosch.
Visit Cape Point, the southwestern tip of Africa, where picturesque bays, beaches, hills, and valleys can be found along with a variety of mammals such as antelopes, zebras, and Chacma baboons. Accommodation in Cape Town is excellent, ranging from good backpackers through to elegant homes to boutique hotels, some of which offer fine dining, drinking, and welcome guests with open arms. Backpackers On Castle still have female only dorms, A friend stayed at Nazari House in Bo Kaap which was really clean and tidy and very affordable.
I stayed in Capetown for around a week and LOVED it. I stayed at this really good AirBnB in Tamboerskloof which is a great place to stay. It's close to Kloof Street for cafe's and food, it is a nice residential area and easy walking to Lions Head (a night hike up there is amazing) and about 45 mins walk to the Waterfront via Buitengracht Street, a safe and easy walk.
A South African safari vacation would not be complete without a visit to the oldest city in Africa, Cape Town.
Day Trips From Cape Town
---
The Kruger National Park.
Kruger is one of the largest parks in Africa and is home to an impressive number of species. Some of the best places to stay are in the private reserves west of the park. The animals roam freely between the private reserves and the Kruger National Park, so your chances of seeing the Big Five and all of the wildlife are guaranteed. Your Kruger Safari can be tailored for everyone, ensuring that you all get the most out of the experience.
If you are traveling with the family, your children can participate in a number of activities to keep their minds active and curious. If you are a couple on their honeymoon, you and your partner can arrange to have two candlelit meals under the stars, horse safaris, and private safaris to make your trip romantic and special. Go on walking safaris, elephant rides, and hot air balloon rides on a South African safari vacation.
Kruger was one of the best parks I did in South Africa despite so many people telling me that because it is the most popular, mainly due to easy access from Johannesburg, that it is too busy and the animals aren't really visible. I had a leopard step out in front of our truck and wander down the road in front of us in Kruger. Read my Kruger Did Not Disappoint post for more indepth info about Kruger National Park.
Full Day Safaris for Kruger National Park
---
Cape Winelands, Western Cape Province
New Cape Vineyards refers to the beautiful wine region that stretches from Paarl, Franschhoek, and Stellenbosch over the Hottentots Holland Mountains to Montague and Robertson and includes over 200 different wineries. These top-rated wineries offer wine tastings and some offer cellar tours that offer fascinating insights into the wine industry. The landscape is magical with spectacular mountain backdrops and endless vineyards that change colour with the seasons.
Check out the Pinotage a light red wine only available from South Africa. It is so nice that I drive 35 minutes from home to get it here. Its a mix between a full bodied Pinot and a rose in my mind. That's not specifically what it is but that would be my description.
Wine Tours in and around Stellenbosch
---
Sabi Sand Game Reserve, Mpumalanga Province.
The Sabi Sand Game Reserve is the originator of sustainable wildlife tourism in southern Africa and the oldest of all private reserves in South Africa. Nevermore than a wilderness area, it is home to a large population of wildlife, including the Big Five, as well as a number of endangered species. Situated alongside Kruger National Park, the animals move freely between the reserves. Here you will find some of the oldest and most famous private game reserves like Londolozi, Mala Mala, and Singita, which offer their exclusive luxury lodges and the authentic all-inclusive African safari experience.
It looks amazing however I've not stayed in the private reserves here. I've heard very good reports about a few and while they are not cheap, apparently they are incredible. Nkorho Bush Lodge is one of the more affordable camps, and Leopard Hills Lodge is the top end, each with their own plunge pool!
---
Cradle of Humankind, Gauteng Province.
The site of the cradle of humankind covers 47,000 hectares of land, mostly private, and consists of 12 dolomitic limestone caves that contain the fossilized remains of ancient forms of animals, plants and especially hominids. The dolomite in which the caves formed began about 2.3 billion years ago as coral reefs that grew in a warm, shallow sea. The Maropeng Visitor Centre, an internationally known tourist attraction, underscores the universal relevance of the cradle of mankind as the parent company through interactive and visually impressive exhibits. A fascinating exhibition and a must see. Day tours (as shown below) are available from Johannesburg.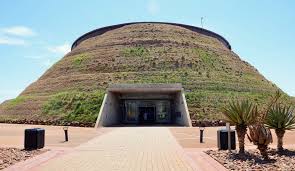 Cradle Of Human Kind Day Tours From Johannesburg
---
Garden Route, Western Cape Province
The coastal area that stretches from Mossel Bay to Tsitsikamma is known as the Garden Route. A beautiful region consisting of rugged rocky coastline, long white sandy beaches, evergreen fairytale forests, endemic vegetation protected by fynbos, and botanically rich lakes and estuaries. The popular seaside towns of George, Wilderness, Knysna, and Plettenberg Bay attract large numbers of tourists each year who come for the temperate climate, natural beauty, and numerous outdoor activities.
Hike a day or all 5 of The Otter Trail, go bungy jumping or kayaking, mountain biking or even zip lining from Tsitsikamma.
---
Hluhluwe Imfolozi Park KwaZulu Natal
Hluhluwe Imfolozi is a twin national park very close to St Lucia in South Africa. Hluhluwe Imfolozi was the best park I visited in South Africa for babies. We saw baby elephants, baby giraffes, baby hyenas, baby hippos and the list goes on. St Lucia itself is know as the town where Hippo's roam and I did manage to see a hippo strolling the streets. Of course great care must be taken but it is a pretty cool sight.
You can also do a boat tour from St Lucia for Hippo and croc watching and we saw heaps of Hippos on that tour. I would really recommend both the national park and the hippo boat tour to get great close ups of heaps of African animals.
Hluhluwe Imfolozi National Park Tours From Durban
---
Mandela Capture Site
This location in Howick, South Africa is the spot at which Nelson Mandela was captured and arrested. While there is no doubt that Nelson Mandela was a great man and a huge advocate for African rights, he started out as a very angry young man. This site displays a lot of info about his early days prior to capture and it is very interesting and informative. I feel this is a must visit Mandela site in South Africa and if you can, I would do it before a Robben Island visit.
It's not easy to get to and I did it on the way out of Lesotho down to Durban, but you could hire a car in Durban or possibly get a tour from there. It's only 100km from Durban so tours from there are an option. You could also do it as part of a Drakensberg tour.
---
Graaf-Reinet
Graaff-Reinet is known as the home of some great examples of Cape Dutch architecture with more than 220 heritage sites. Graaf-Reinet has 4 museums packed with historic artifacts from pre-history right up to modern day. Fossils, armouments, artworks and memorabilia are on display and showcase the towns history well.
Sitting in the shaddow of the Sneeuberg Mountain Range the town lies nestled in the bend of the Sundays River.
If you have time take a drive to the spectacular Valley of Desolation particularly for the sunrise or sunset views. It is pretty spectacular and there is also a 1.8km round trip trail that is a nice walk and a great way to see the views. All Trails has the details.
You will find Karoo Nature Reserve a few minutes northwest of Graaf-Reinet. This 14.000 hectare reserve is well stocked with all the African animals you would expect to see. You will find zebra, springbok, wildebeest and gemsbok amongst the ground animals and many many bird species.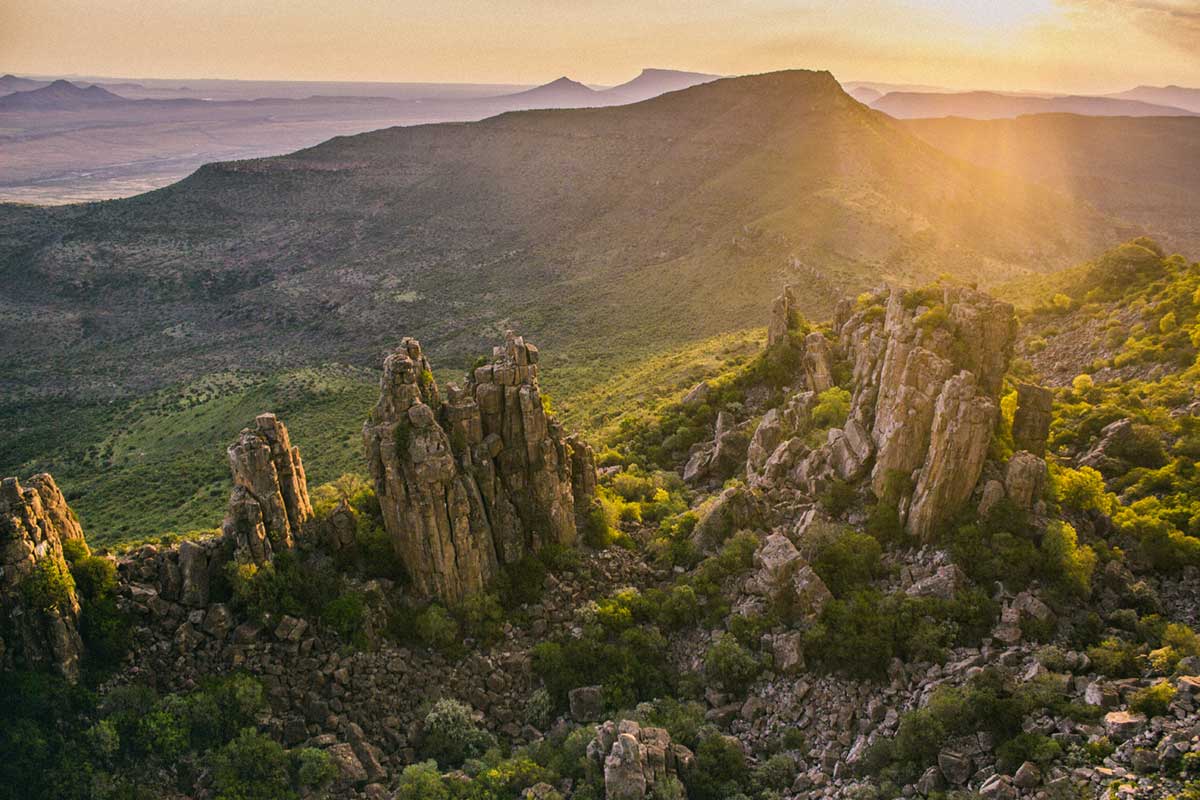 ---
Penguin Colony at Boulders Beach
Not far from Cape town lies the penguin colony of Boulders Beach. They are a protected colony of African penguins which can be viewed in their natural habitat via wooden walkways. Some tours will include the Boulders Beach Penguins so yes you can still see the penguins if you don't have a car.
Tours That Visit Boulders Beach South Africa
---
Final Notes On Visiting South Africa
No matter the reason you decide to visit South Africa here are my general tips for this trip:
Allocate a good amount of time – there is heaps to see and it all takes time. I would plan for a month to see it pretty thoroughly.
Don't expect to see Lions or Rhino's on your first Safari – All the national parks are very different so my recommendation would be to book a few days at Kruger, a full day at Addo National Park and a full day to Hluhluwe–Imfolozi. You might be lucky like me and have Rhino's surrounding your truck or you might not see any at all so don't plan to see everything your first day. That is highly unlikely.
Consider an overland tour. I chose one from Nomad Adventures and LOVED it. I only had a month in South Africa and knew that I would be heading north from Capetown to Namibia when I got back on my main truck. There was no way I was going to be able to see everything I wanted to and get myself through South Africa so I did a 28 day trip with Nomad. They don't seem to offer that one any longer, however this South Africa Explorer tour is very close. You can also choose to camp (which will be about 50-60% of the trip) or accommodated which is a shared room.
Do a township tour in Capetown. I accidently did this and was mortified when I realsed (after I was in the van) that is was a township tour. I thought I was doing a "Capetown" tour. I am now so very glad I did. I learned so much about how the townships came to be, all the about the people living there, the services, and the (mostly) thriving community spirit. If you do the Nomad tour above this will be included most likely. Check and if they no longer do it ask your Nomad host for a recommendation.
Hike somewhere – I hiked in Drakensburg Mountains and then again on the Otter Trail and loved it. The scenery is so diverse and the hiking doesn't have to be difficult.
---
So there you have it. 12 reasons to add South Africa to your travel bucket list.