Top 10 Things To Do In Cape Town
There is hardly a better place to stroll aimlessly – and enjoy it – than Cape Town. A fascinating mix of African, European, and Malaysian influences, this wonderful city has not only grown into one of the world's great capitals over the past two decades but also a thriving, diverse and exciting heart of South Africa.
Here are 10 of what I consider to be the absolute best things to do in Cape Town.
1. Hike Lions Head At Sunrise
Lion's Head rises like a sentinel over the cape and the surrounding ocean and is an icon of the city's wonderful topography. At 669 meters above sea level, the summit offers a panoramic view of the city, Table Bay, and the Atlantic. This makes it a very popular destination for hikers (and a top Instagram destination).
Sunrise is beautiful all over the world, but a sunrise from the lion's head is one of those rare uplifting sights that will make you so ridiculously grateful that you are alive. It probably has something to do with the fact that you just climbed up some pretty decent ladders and chains. While Table Mountain maybe Cape Town's main attraction, the view from Lion's Head certainly offers some of the best views of the city imaginable.
As you climb up to Lion's Head through the pre-dawn to summit at sunrise, you'll be rewarded with a 360-degree view of Cape Town's rugged beauty. I did the hike on my own and honestly, it was one of the most memorable mornings of my life. The view encompasses everything from the Atlantic coast to the Bowl of the City & from Table Mountain to Robben Island.
It is important to note that while the hike is relatively short and easy (two to three hours there and back), it should not be underestimated. There is a decent amount of rock steps, ladders and its a bit of a scramble in points. Just go slow and don't push yourself. If you do decide to do it for Sunrise, make sure you have a good quality headlamp that fits well.
Group hiking is always recommended if you are going to be doing an unknown hike in the dark. With an experienced guide from R950 per person, this is the safest and most convenient option. I did Lions head first with a local hiking group at night and then on my last day in Capetown, did it myself for sunrise. I felt like it was going to be easier on my own getting down in the daylight as opposed to doing it in the dark if I did a sunset hike. The sunsets here are also phenomenal and popular with locals and visitors alike.
Tours for Cape Town's Lion's Head Hike
If you don't want to do it on your own, Get Your Guide has some great tours for Lions Head guided hikes available. I'm sure you will find something in there.
---
2. Robben Island – Nelson Mandela's prison location
While Cape Town is now a wonderful and colorful place to visit as a traveler, the city was also the epicenter of many of South Africa's most tragic and significant events.
From the first landing of the Dutch East India Company fleet in 1652 to the oppressive apartheid policy of the 20th century and its end in 1994, many of South Africa's most important historical events occurred here in the shadow of Table Mountain.
One of the popular things to do in Cape Town is to take the 45-minute ferry ride to the Robben Island Prison Museum, a site of great historical importance located about 7 km from the Cape Town coast. Nelson Mandela served most of his 27-year prison sentence here, along with hundreds of other anti-apartheid campaigners who were political prisoners. The site is now regarded as one of the best UNESCO World Heritage Sites in South Africa.
Visitors should expect around 4 hours for the ferry trip both ways, and the Island tour. After you get off the boat, you will board a small bus and meet your tour guide for Robben Island. Former inmates offer part of the tours in which they tell their personal story of their imprisonment and you can see first-hand what it was like in the struggle against apartheid.
I almost didn't do this tour as I had a few things I wanted to get done while in Cape Town but I'm glad I did. Prices are R600 per adult at present with ferries leaving at 9am, 11am, 1pm and 3pm.
Tours For Robben Island
If you would like to be picked up from your accommodation and not have to worry about ferry times and tickets, there are quite a few tours available that either include Robben Island in among other sites, or some that only do Robben Island. Check out some options below.
---
3. Stellenbosch Wine Tour
Stellenbosch is an easy drive from Capetown, or only an hour on the bus or train, however if you are going to be doing wine tastings, a tour is probably more suitable. Stellenbosch is South Africa's premiere wine producing region and is a pretty little town as well.
To save some money, grab the bus or train out to Stellenbosch and book a tour that leaves from there. I would suggest getting the train one way and the bus the other, simply because the bus takes the north route and the train the south so you will get to see different things.
Alternatively check out the tours from Cape Town below that are usually packed with wine tastings, cheese and chocolate pairings, cellar tours , and much more. Make new friends, laugh, and learn about Cape Town's famous vineyards as you discover and taste some of the best wines in the world.
If you are looking for a more unique Cape Winelands experience, a horseback winery tour could definitely be the one. I met two women at a restaurant on Kloof Street that had done this horseback tour the day prior and could not stop raving about it. Neither were riders, but they said they felt safe and it was really fun. You just never know…
Rome2Rio's Cape Town to Stellenbosch transport options here.
OH – And try the Pinotage. Unique to South Africa this is now my favourite type of wine! It's like a cross between a Rose and a light Merlot.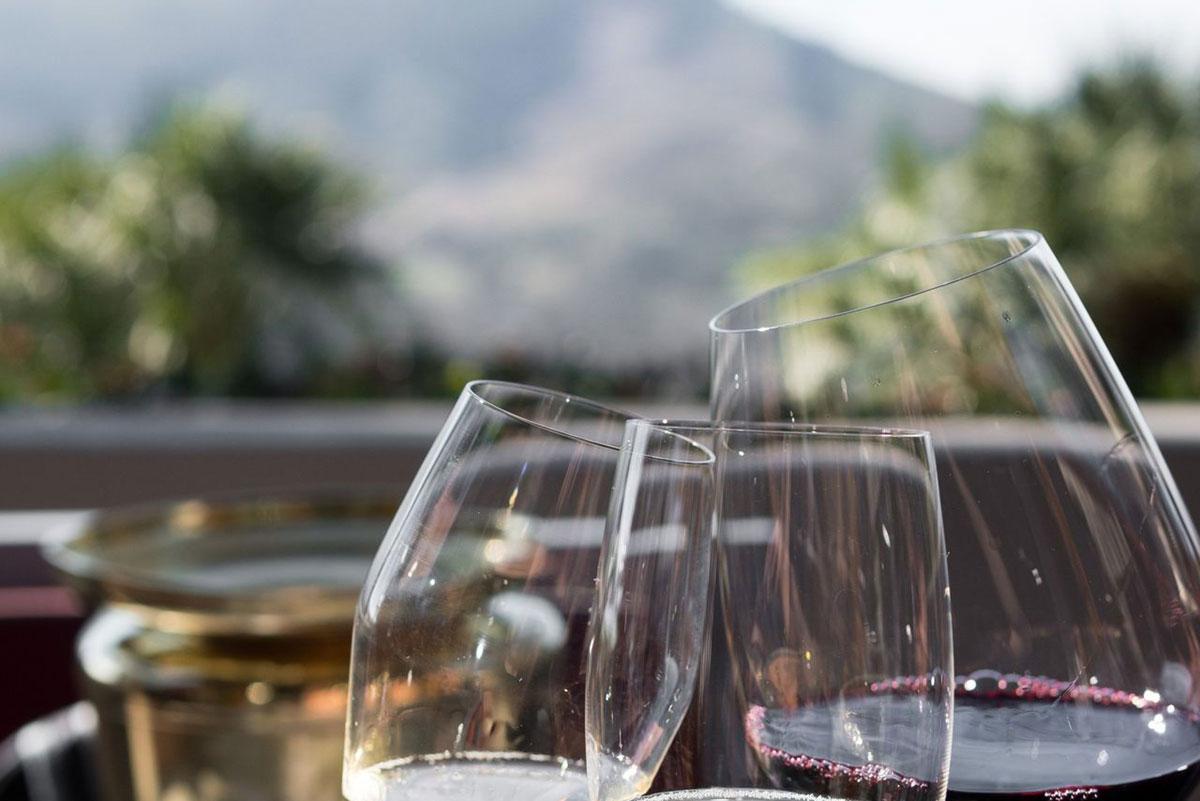 Wine Tours From Cape Town
---
4. Visit the Zeitz Museum of Contemporary African Art
The Zeitz Museum of Contemporary Art in Africa (Zeitz MOCAA) is a public, non-profit organization that exhibits, collects, preserves, and researches contemporary African art. It houses the largest collection of contemporary African art on the continent, with works from across the diaspora. London architect Thomas Heatherwick has converted an abandoned grain silo into 80 galleries. The works speak for themselves.
See the afro-futuristic glasses by Cyrus Kabiru, the anti-patriarchal handicrafts by Ghada Amer, the oil portrait by Kehinde Wiley, and the cowhide sculptures by Nandipha Mntambo.
---
5. Hike or get the cable car up Table Mountain
Table Mountain is believed to be one of the oldest mountains in the world, with rocks that date back hundreds of millions of years and is thought to have existed long before the Himalayan Mountains rose out of the earth.
A trip to this iconic monument is definitely worth it. The more energetic may prefer to hike, however if you would prefer, you can just get the cable car up and back. The Table Mountain Cable Car has been carrying passengers up Table Mountain for almost 90 years. With its 360 * rotating floor and epic view, it's definitely worth the drive. Tickets cost $ 20-25 per adult but are seasonal. Confirm this before you set off.
Which Trail?
There are multiple hikes up and around Table Mountain, some that charge straight up the face, and some that take in more kilometers but are easier to do. Unless you choose a climbing route, none are technical but some can be challenging. This article from Bookmundi explains them well. I did the 12 Apostles walk and loved it. I wanted to see more variety of landscapes which was the main reason I chose this one, and it wasn't really hard. You are hiking up a mountain, but it wasn't lung busting "OMG I can't breathe" hard. I've also heard this route called the Kasteelspoort route.
Once you get to the top of Table Mountain and see Cape Town and the City Bowl, your legs will miraculously recover and the challenge of the hike will fade away. The views are just spectacular but be aware that the cloud cover – (known locally as slick) – can drop off very suddenly, completely obscuring the panorama. Once you are done you can purchase your cable car ticket and head down the easy way!
What About A Guided Hiking Tour?
Check out the tours below which might be a better option than doing all the research yourself.
Guided Hikes Up Table Mountain Cape Town
If you are a little concerned about getting lost or being a little out of your comfort zone, consider joining a hiking tour. You can even Abseil down!
---
Check out my South Africa Destination Page for all the info, posts & places to visit in South Africa
---
6. Take a walk in the Gardens of Kirstenbosch
South Africa is extremely rich in biodiversity and there is no better place to explore than one of the largest botanical gardens in the world, Kirstenbosch Gardens. The gardens on the eastern slopes of Table Mountain are considered to be the most beautiful in the world. Kirstenbosch is also home to more than 7,000 species of plants (many of which are critically endangered) and has been a UNESCO World Heritage Site since 2004.
Visitors can stroll the centuries old 130 meter footpath (known as "boomslang" because of the way it winds through the treetops), picnic in the gardens, and sip tea in the lounge. Take part in a free guided tour of the various themed gardens. If you are lucky enough to visit Cape Town in the spring, the gardens are covered in a colorful blanket of Cape wildflowers – a sight not to be missed! The amphitheater is also a popular place for summer music for outdoor concerts and I was fortunate enough to see some great local talent one evening in the park.
You can picnic in the Gardens however you are not permitted to bring chairs, umbrella's or the like. There is also no rubbish bins in the gardens to you will have to be prepared to carry in and out what you need.
Apart from the Tea House there is a restaurant and a café in the park. Entry is R75
---
7. Visit the Cape Point Peninsula
No Cape Town itinerary is complete without a trip to one of its most epic locations – the Cape Point Peninsula.
On the Cape Peninsula, the rocky, mountainous promontory collides with the rugged Atlantic Ocean, creating a spectacular landscape full of unique flora and fauna. The rocky cliffs and endless ocean views make it seem like you have reached the end of the world, which in some ways you did as it is the most southwestern point of Africa!
There is a lot to do around the Cape Peninsula: for example, you can take a walk to the old Cape Point lighthouse or perhaps you can take the Flying Dutchman funicular or walk to the famous SS Thomas T or shipwreck bike trails. There are some amazing secret beaches just waiting to be seen, but a word of warning: swimming is not allowed in some of them because of the strong currents.
It's not possible to get public transport to the Cape Peninsular so you will have to either do a tour or hire a car. There are some great tours listed below, or if you are felling rich, you could splurge on a helicopter tour of the Cape.
Cape Of Good Hope Penninsular Tours From Cape Town
---
8. Watch the Sunset from a bar in Camps Bay
As if one of the best sunrises in the world wasn't enough, Cape Town has some pretty epic sunsets too. The people of Cape Town make the sunset a social event, mostly with an alcoholic drink in hand (known as a "sunset"), that makes it hard not to find a sunset spot somewhere everyday.
Camps Bay, nestled in the foothills of the Twelve Apostles is the perfect location for appreciating an over the ocean sunset. Famous for its fine white sand and sparkling blue water, the palm-lined waterfront is a place to see and be seen. lined with the hippest cafes, lively beach bars, and some of the city's most respected restaurants. While I'm not usually interested in any "scene" I found myself at a small bar called Chinchilla at the end of a great day at the beach, wine in hand appreciating the view. I do agree that watching the sun fall into the Atlantic from and around Camps Bay is a bit of a Cape Town rite of passage and a lovely way to end the day, especially with a nice South African wine or the old G&T!
---
9. Do A Tour of Bo-Kaap
Bo-Kaap means "upper cape" and as you would suggest from such a name, built on the slopes of Signal Hill over the city. Bo-Kaap images show brightly colored homes winding around the city streets, however it has a rich heritage and is the center of Malay culture in Cape Town.
I recently discovered Context a travel website that offers tours from local experts. You will often find museum tours done by PHD art students and the like and I have actually found one for Bo-Kaap. This particular tour is run by a local muslim woman called Bilqees who is a resident of Bo-Kaap and an expert on not just the history but the area itself.
This is the tour of Bo-Kaap I would do. It is close to Tamberskloof where I stayed in Cape Town so I walked over and wandered the streets myself, however I wish I could have found a tour that offered me the insight into the locals and cultures in this thriving community. If you do manage to do Bilqees tour, please let me know how it was. I'd love to know. Alternatively if you would like to include other destinations in Cape Town, there is a list of tours below that might suit you more.
Cape Town Day Tours That Include Bo-Kaap
---
10. Check Out The V&A Waterfront
The V&A Waterfront is a dining, retail and entertainment area on the water in Cape Town. Home to the Aquarium, The Cape Wheel and the Clock Tower, this is where you would have come to get the boat to Robben Island. The Oranjezicht City Farmers market is only 400m walk from the V & A Waterfront retail area so it would be easy to combine your visit. The market is open Saturday and Sunday morning from around 8:15 and Wednesdays over the summer.
The shopping precinct has some great eating establishements that vary from simple take outs to nice sit down restaurants.
If you are after something more upbeat, Grand Africa cafe behind the V&A is a good place to be seen. It's very beach chic!
---
Wrapping Up: 10 Best Things To Do In Cape Town
So I hope I've helped you to plan out your days in Cape Town. It is a beautiful city with lots to see and do both in the city and the region. Don't forget the Pinotage – OMG you will not be sorry!
---
Where to Stay in Cape Town
Camps Bay
Accommodation in Camps Bay will usually be quite upmarket or villa/holiday home style. You will pay more but Camps Bay is beautiful. Transport options from Camps Bay into the city or waterfront are easy to use and frequent.
Tamboerskloof
Tamboerskloof is a residential suburb between the city centre and the beaches that is a great location. Close to the Kloof Nek Rd for public transport or Kloof street for cafes and food.
Green Point
The best location if you are attending a game at Cape Town's stadium. Close to V&A Waterfront, this location is easy access to some of Cape Towns most popular attractions.
Accommodation For Cape Town
---