The Gili Islands Off Lombok are perfect for a romantic getaway or a few days partying with your friends.
If you find yourself a little sick and tired of the traffic and hustle and bustle of Bali, consider heading to the Gili Islands.

The Gili Islands, a small archipelago off the northwest coast of Lombok, Indonesia, have become a significant attraction for travelers worldwide. Comprising Gili Trawangan, Gili Meno, and Gili Air, each island offers a distinct experience. Whether you're seeking a serene escape, a vibrant nightlife, or a perfect diving spot, there's a Gili Island tailored for you. Let's dive into what each one has to offer, helping you in determining the best fit for your next tropical adventure.
Which Gili Island should you choose?
The 3 islands are very different in style. They all offer great diving opportunities, white sand beaches with amazingly clear water, none have powered vehicles and all will enable you to have a great vacation. Whether you are a group of women on a getaway or a couple looking to embrace some RnR, any of the Gili Islands will be a great choice.
---
Gili Trawangan: The Vibrant Party Island
Regarded as the liveliest among the trio, Gili Trawangan is where energy meets paradise. Known for its vibrant nightlife, this island provides the best of both worlds—azure waters by day and rhythmic dance parties by night.
Gili T (as its known), has a real backpacker vibe and is the closest island to Bali. While it is known for its nightlife, you can also find some accommodation in a quieter location that will enable you to ,chill and relax or head into the village on the nights you might like to join in on one of the dive bar's happy hour events.
Sunsets over the main island of Bali are a highlight of Gili T with many sunset bars and restaurants catering to the 3 hours over dusk and into the evening.
Activities: Snorkeling, diving, beach hopping, and cycling.
Nightlife: Beachfront bars, nightclubs, and live music.
Accommodations: A wide range from luxury resorts to budget-friendly hostels.
Diving: There are multiple diving companies on Gili T. Try Manta Dive for all levels of social diving and qualifications
Horse Riding: Check out STUD Horse Riding and Rescue if you would like something a little different.
Where to stay on Gili Trawangan
Gili T has a lot of accommodation. From backpacker hostels to more upmarket retreats. You won't have trouble finding somewhere to stay on Gili T. If you are from a country where you experience a warm summer, February is the time to get accommodation deals on the Gilis. We went at the end of February one year and it was so quiet and so cheap. We are Australian and live in a tropical climate so didn't think it was that hot so it was as great time for us to go.
Budget Accommodation Gili T
Try Gili La Boheme with traditional style accommodation. Its a very cool little place with a pool and a variety of beds and rooms starting at only $20AUD per night for a double room with and Air Con and a shared bathroom. $35AUD per night will get you a room with a private bathroom.
Gili Desa offers double rooms with AC, bathrooms and breakfast included for around $22.50 AUD per night
Mid Range Accommodation on Gili T
If you would like to spend a little more consider Gili One Resort which has twin rooms starting at around $60 AUD per night. They also have Family Suites that sleep 4-5 from $92 per night. The resort has a pool, breakfast is included, WiFi is free and all rooms have AC.
If you have 2 couples consider a private house like Is Oke House. This villa has its own private pool and 2 double rooms and everything you might need for a great stay on Gili T. At only $80AUD per night for the 2 bedroom villa this is a great deal for 2 couples.
Luxury Accommodation on Gili T
You can't really go past any of these hotels. They are all lovely and offer a great stay in quality surroundings. Try The Pearl of Trawangan which is a beautiful beachfront resort. Starting at around $130 AUD per night they have a variety of room options available.
The Two Bedroom Villa at Gili Kama Hotel & Villa will set you back around $270 per night, however it sleeps 4, has a tantastic fit out and even its own private pool. Cinta Cottages offer private villas with plunge pools starting at $170 AUD per night. These are really cute little cottages with everything you might need, sun beds and circular plunge pools to cool down when you need it.
Find you own accommodation to suit your style and budget below.
Snorkelling Trips from Gili Trawangan
---
Gili Meno: A More Serene Escape
A sanctuary for those wanting to disconnect from the hustle and bustle, Gili Meno boasts unspoiled beaches and a tranquil environment. Its serenity makes it ideal for honeymooners or those simply seeking an relaxing escape.
Gili Meno is my favourite island in the group. From what I've seen it is becoming more developed, but it is a wonderful place to spend some time unplugging from the "real" world.
There aren't heaps of options to be entertained on Gili Meno, but that is kind of the point. We spent 10 days here and simply read, snorkelled, had sunset cocktails every afternoon and lazed away our days swimming and sunbaking. Of course you can head over to Gili T if you want to have more of a look around, or if you are a diver, Gili Meno Is for you!
Activities: Sunbathing, turtle sanctuary visits, and walking. You can walk around the island in around 45 mins to an hour. It is almost exactly 5km so it is a great walk every morning.
Accommodations: Boutique resorts, bungalows, and eco-lodges.
Diving: Gili Meno boasts some spectacular dive sites like Meno Wall & The Bounty.
Snorkelling: If you want to take the ultimate selfie, snorkel down to the underwater sculpture "Nest" created by Jason deCaires Taylor. The 48 life size human scuptures are instantly recognisable and a draw card for Instagram lovers everywhere.
Food is abundant and of good quality on Gili Meno. The Indonesian food is great but if you are a lover of Asian Cuisine you must try the Sasak Cafe on the sunset side for their peanut curry. OMG – it is so good!
Where to Stay On Gili Meno
Budget Accommodation on Gili Meno
If you are comfortable in a more basic environment try The Rabbit Tree Hostel. Its a really funky hostel with double rooms as well. Try and get the Bamboo Room which is a really cool space with your own private bathroom. At around $22 per night its a great deal! We loved it.
Alternatively try Jepun Bungalows. These are traditional bungalows in a small resort that also has a pool. They start at around $23AUD per night for a fan bungalow and are only a little more for one with AC.
Mid Range Accommodation on Gili Meno
Seri Resort Gili Meno is an Adults Only resort and is beachfront on a beautiful slice of Gili Meno sand. Seri Resort offers standard rooms starting at $88AUD per night right up to one bedroom villas with a private pool for only $160AUD per night including breakfast.
Breathe Villa Meno is another smaller resort with rooms from double rooms up to a private pool villa. Double rooms start at around $82AUD per night, and the private pool villa starts at $115 AUD per night.
Luxury Accommodation on Gili Meno
Villa Pulau Cinta Boutique Suites offers luxury accommodation on the southern end of the island and features free WiFi, a lovely pool and a Spa and Wellness centre. Expect to pay from $300AUD per night for this resort.
MAHAMAYA Gili Meno is a beautiful beachfront resort offering both suites and villas. Suites are usually around $325 AUD per night and the beach front villas run at around $425AUD per night.
More Accommodation Options On Gili Meno
---
Gili Air: The Perfect Balance of Chilling and Gourmet Food
Gili Air is a harmonious blend of the other two islands' essence. Offering a lively yet relaxed atmosphere, it's a treasure trove for diving enthusiasts and those seeking a laid-back vibe alike. There is a more hippie vibe to Gili Air and while it has many top notch resorts there is still a warm relaxed feel to the island.
Diving is still high on the list here as is paddle boarding, snorkelling and of course some amazing restaurants.
As the island closest to Lombok you get great views included Mt Rinjani, Lombok's highest peak.
Activities: Scuba diving, yoga retreats, and traditional cooking classes.
Nightlife: Cozy beach bars and evening fire shows.
Accommodations: From beachfront villas to comfortable guesthouses.
Gourmet Food and Restaurants: Mowie's is known for the best eggs benedict you might ever eat. Someone told us to go and I was doubtful but YES – It is the best I've eaten. Pachamama offers some of the best vegan food in the whole area. They make their own Kombucha and offer breakfast, lunch and dinner. Try the Namaste Combo – rice paper rolls with a twist. Warung Rainbow was our favourite small food stand on Gili Air. Fresh fish, Indonesian meals and affordable drinks meant we ate here probably 3 or 4 times.
Budget Accommodation options on Gili Air
Gili Air does have budget accommodation even thought it is known for its retreats and resorts. Try Si Pitung Village for rooms and little bungalows. Starting at around $22AUD per night it is a nice little resort with good facilities and a decent pool.
Sapari's Family is a really cool little hotel that has A framed bungalows opening onto their pool area. It is clean, comfortable and has bungalows starting at around $20AUD per night.
Mid Range Accommodation on Gili Air
Salim Beach Resort offers rooms from around $65 AUD per night. This resort is more Indonesian themed and also has good facilities and a nice pool.
Gili Air Lagoon Resort offers poolside bungalows from only $120 AUD per night. They also often have good Genius Specials. If you use Booking.com regularly you build up your genius level and I've noticed that this hotel is often up to 45% off for Genius Level 1 users (which is their lowest Genius Level).
Luxury Accommodation on Gili Air
The Cove Gili Air offers pool villas at pretty reasonable prices. The one bedroom pool villas start at around $260 AUD per night for 2 people and are very nice Villas with those beautiful indoor showers that Bali is known for.
Sakura Villa is a stand alone villa that sleeps up to 5 people. It is a beautiful space and will set you back around $380AUD per night for up to 4 people.
Gili Air has a lot of private villas so check out either Booking.com or this map below to find something to suit your style and budget.
Other Accommodation on Gili Air
There are many options for your stay on Gili Air. Check out the map below to find something to suit your style and budget.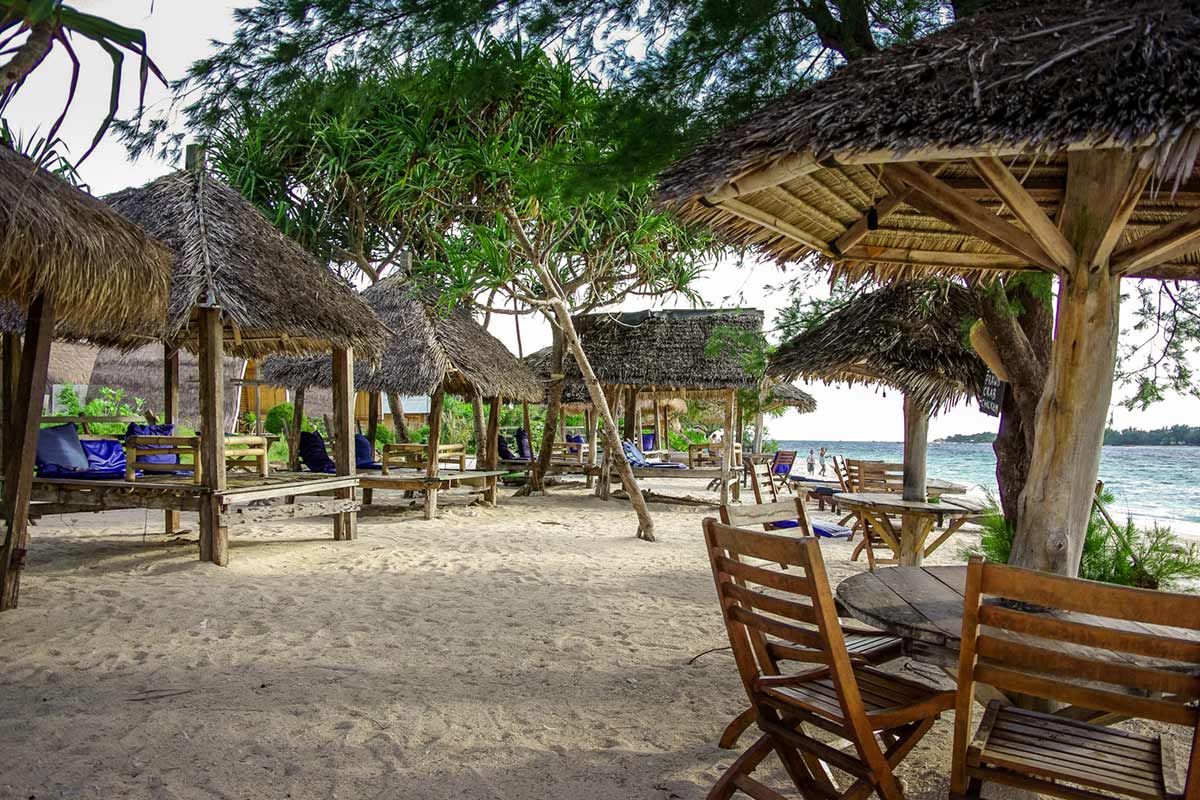 ---
Getting To and From Gili Islands
The easiest and quickest way to get to the Gili Islands is to and from Bali. They depart from Serangan quite close to Denpasar at least once daily and sometimes twice. It takes about 2 hours and 45 mins and they stop at each island.
Bluewater Express do multiple trips per day to Gili Air and Gili T. Check their website for times and days.
!! Beware the return ferry times. The ferry's aren't always reliable and you might be waiting for the 9am ferry that never comes and have to get on the 12pm boat. Never book your flight home from Bali on the same day you are leaving the Gilis. We've had to sprint through Bali airport trying to catch our flight and the only way we managed to was that there was a medical emergency for someone to board and they had delayed the flight.
My recommended way to access the Gili Islands is from Lombok. You can fly from Denpasar to Lombok multiple times per day and this gives you the chance to do the short speed boat transfer from Lombok to the islands and back. Gili Island Transfers are great at organising speed boats and transfers direct from the airport and of course also the return leg.
If you can't make your flights link up with check in times, consider staying overnight on Lombok. The transfer company does transfers from Senggigi Beach (and other popular beach destinations) so you can stay here overnight and just get picked up in the morning for your transfer to the islands.
Transfers to Gili Meno
Book your transfers ahead of time so you can relax and know you are on the best ferry available.
---
Tours To The Gili Islands From Bali and Lombok
If you don't have multiple days you could consider doing a tour from Bali or a snorkelling tour from Lombok.
How We Spent Our Days On Gili Meno
Every morning we would walk around the island (about 60 mins), get breaky and then head back to our accommodation. Then we would change into our togs (swimwear), head down and pick a thatched hut on the edge of the beach and hang out there all day, reading, swimming, snorkelling and drinking beer.
We did that everyday. We loved it.
The Gili's would be great for any holiday that you have the intention of relaxing and rebooting. We stayed 10 days and it was exactly the right amount of time. The snorkeling is fun, but not world class, the food on the other hand is really good. Try the Sasak Cafe on the sunset side. OMG – their local peanut curry is to die for.
---
Which Is The Best Gili Island for you?
To determine the best Gili Island for you:
Analyze your preferences: Reflect on your desired activities and the kind of atmosphere you're aiming for. Whether it's vibrant parties, peaceful retreats, or a balanced experience, there's a Gili Island for every traveler's taste.
Consider the duration: If you have ample time, consider island-hopping to soak in the diverse experiences each island offers.
Budgetary constraints: With a vast array of accommodation and dining options, you can find something that fits your budget on any of the islands. However, Gili Trawangan tends to be pricier due to its popularity, while Gili Meno offers more upscale secluded options.
Each Gili Island, has a distinct charm and they all offer an unforgettable experience. Gili Trawangan thrills with its energy, Gili Meno provides a secluded haven, and Gili Air offers a delightful mix of both. By evaluating your preferences, you can make an informed decision, ensuring an great tropical adventure tailored just for you.
In conclusion, the question of which Gili Island is the best for you hinges on your personal preferences and what you hope to extract from your island adventure. We hope this guide has shed light on the unique features of each island, enabling you to make the best decision for your trip.

Whichever island you choose I'm sure you will have a lovely time. They weather is usually great, the ocean is divine and the food just what the doctor ordered.
---
FAQ's about the Gili Islands
Is there surfing on the Gili Islands?
Yes there is surf on the islands. The south eastern corner of Gili T has surf as does the same location on Gili Air. Gili Meno south east beach also has small swell on occasion. HOWEVER: the swell on all 3 islands are very dependant on weather conditions. The breaks are suitable for beginners as they are mostly beach breaks. More advanced surfers should consider south Lombok which has much better swell but they are primarily reef breaks – so not suitable for beginners.
Where is the underwater sculpture on the Gili Islands
The underwater sculpture known as "Nest" is off the west coast of Gili Meno. This Google Map link will show you where the sculpture is.
Which Gili Island is best for couples?
If you are after a complete get away, I would suggest Gili Meno. There are water based activities to do, plenty of food and drinks options and great beaches, but overall it is the quietest island of the 3. If you would like a few more options head to Gili Air where there is a little more shopping and you are closer to Lombok for day trips. If you are a young couple and like to spend some nights out as well, head for Gili T.
Is the Gili Islands good for families?
If your children are water wise yes the Gili Islands would be great for them. All the islands have a focus on the ocean so I personally feel that children from maybe 10-14 would love it. Once they are older they might find not enough to do which might mean you would limit your stay to a few days.
What is the food like on the Gili Islands?
The food is affordable and usually good. There are lots of Indonesian options like Nasi Goreng and also quite a few more western style restaurants as well. Breakfast is usually more Indonesian in style, but anywhere you eat out will have something to suit most diets and eating styles.
How long should I stay on the Gili Islands?
If you are good at relaxing and love swimming and snorkelling, you could probably appreciate 10 days. If you need a little more stimulation and like to be constantly active a few days would probably be enough.
---