Best Hotels In Antigua, Guatemala (for any budget)
Are you looking for the best luxury and budget hotels in Antigua, Guatemala? You've come to the right place. We've picked out our top ten picks of the best accommodations you can find in this beautiful city. Antigua is known for its colonial architecture and cobbled streets so be sure that you stay at one of the best hotels here in this, one of the most popular towns in Central America. From Luxury accommodation to budget hostels, I'm sure you can find somewhere to stay in this beautiful Guatemalan city.
Porta Hotel Antigua
Porta Hotel Antigua is a luxury boutique hotel located in the heart of Antigua Guatemala. It's the ideal place to stay if you're looking for something both affordable and authentic.
The hotel offers 22 colonial-style rooms, each with its own unique design, style and ambience. Whether you want a stained-glass window or some locally made artwork adorning your walls, there are plenty of options available here! Lush gardens and beautiful colonial architecture are offset by modern facilities including an amazing Spa and resort style outdoor swimming pool.Just five minutes walk from the main plaza in Antigua, the hotel is close to several major attractions including: The Central Park where locals come together to dance and sing; La Merced Church which houses an impressive collection of religious paintings; El Hospital de San Juan de Dios Hospital (supposedly haunted by ghosts); Plaza Mayor—the main square where all major events take place; Mercado Central—a huge local market where fresh fruits and vegetables are sold throughout the day; Museo Ixchel (an old convent turned museum showcasing local art).
or view in the comparison table at the bottom of this post.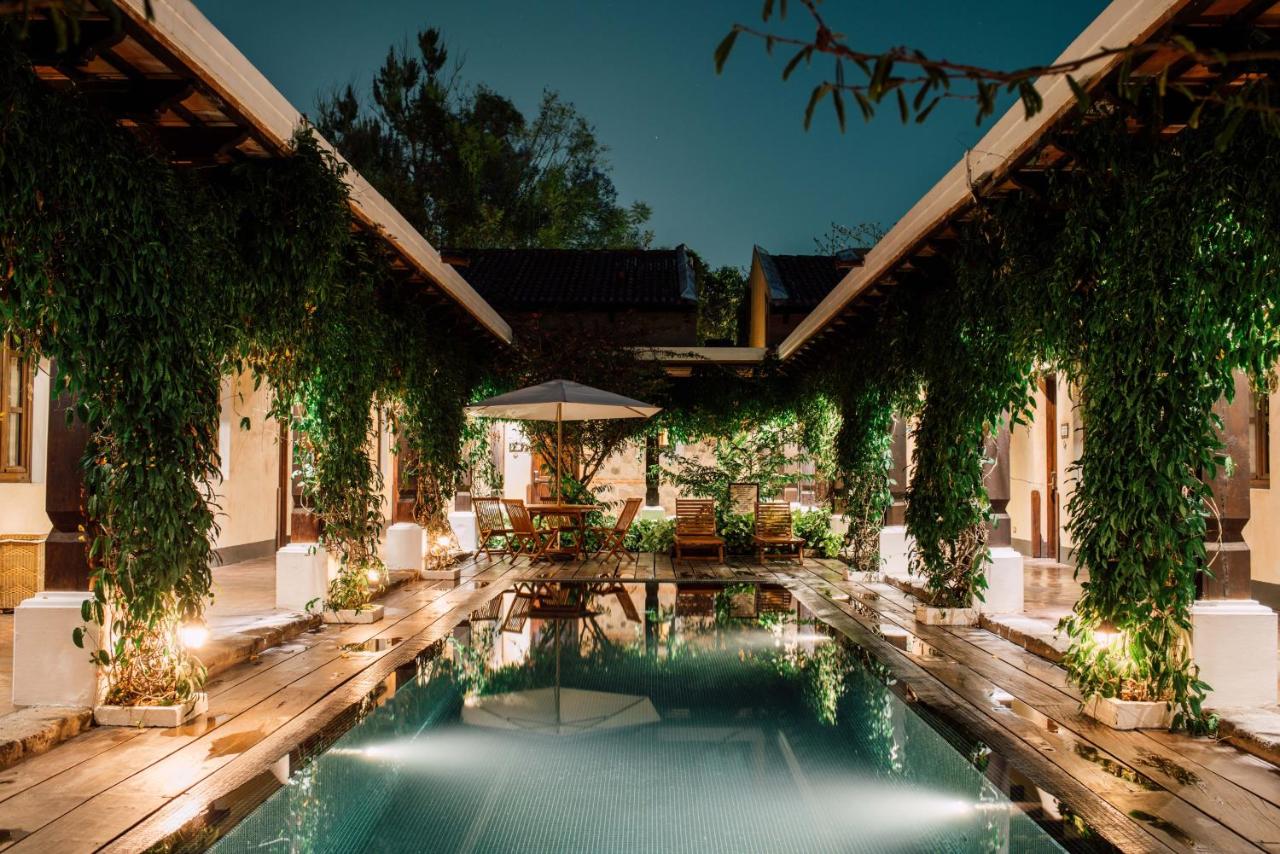 Hotel Museo Spa Casa Santo Domingo
Hotel Museo Casa Santo Domingo is a luxury hotel in Antigua Guatemala and is often thought of as one of the very best hotels in Antigua. It is also a historic hotel, with the building dating back to 1989 when it was constructed with the purpose of restoring the ruins of the Santo Domingo Convent and temple that had been buried under tons of rubble after a massive earthquake in 1773. The boutique property is one of the best places to stay in Antigua with 132 rooms and suites, and has recently added more unique rooms like airstreams, cabins and containers to its accommodation options. This is called Santo Cielo and is some of the most unique accommodation in Antigua. You can choose from one of the luxury hotel rooms or a more unique stay close by.
The hotel has two restaurants. Their main restaurant El Refectorio offers dishes created by their well known Chef Mario Enrique Campollo, while the alternative El Tenedor del Cerro offers pizza, pasta and grille specialties.The hotel hosts guests at its spa, which offers massages, facials and more treatments for an additional cost. There is also a lovely tree lined pool overlooking the city and volcanoes beyond it; guests can order drinks from their lounge chairs or book private cabanas for up to four people to enjoy during their stay at Casa Santo Domingo Hotel & Spa. Spending a few days in the former convent will ensure you leave rested and relaxed.
or view in the comparison table at the bottom of this post.
Selina Antigua
Offering accommodation from a bed in a 6 bed dorm to family and double rooms, Selina Hostel in Antigua is rated 8.6 on booking.com from previous guests. The hostel has a shared lounge and bar, and is only a 3-minute walk from Santa Catalina Arch in the centre of this colonial city. The accommodation offers bikes for rent, can organise airport transfers for you, has free wifi and a continental or buffet breakfast is available every morning at the property. You can also play billiards at the hotel or cool off in their outdoor pool. This is a really affordable option in a central location.
or view in the comparison table at the bottom of this post.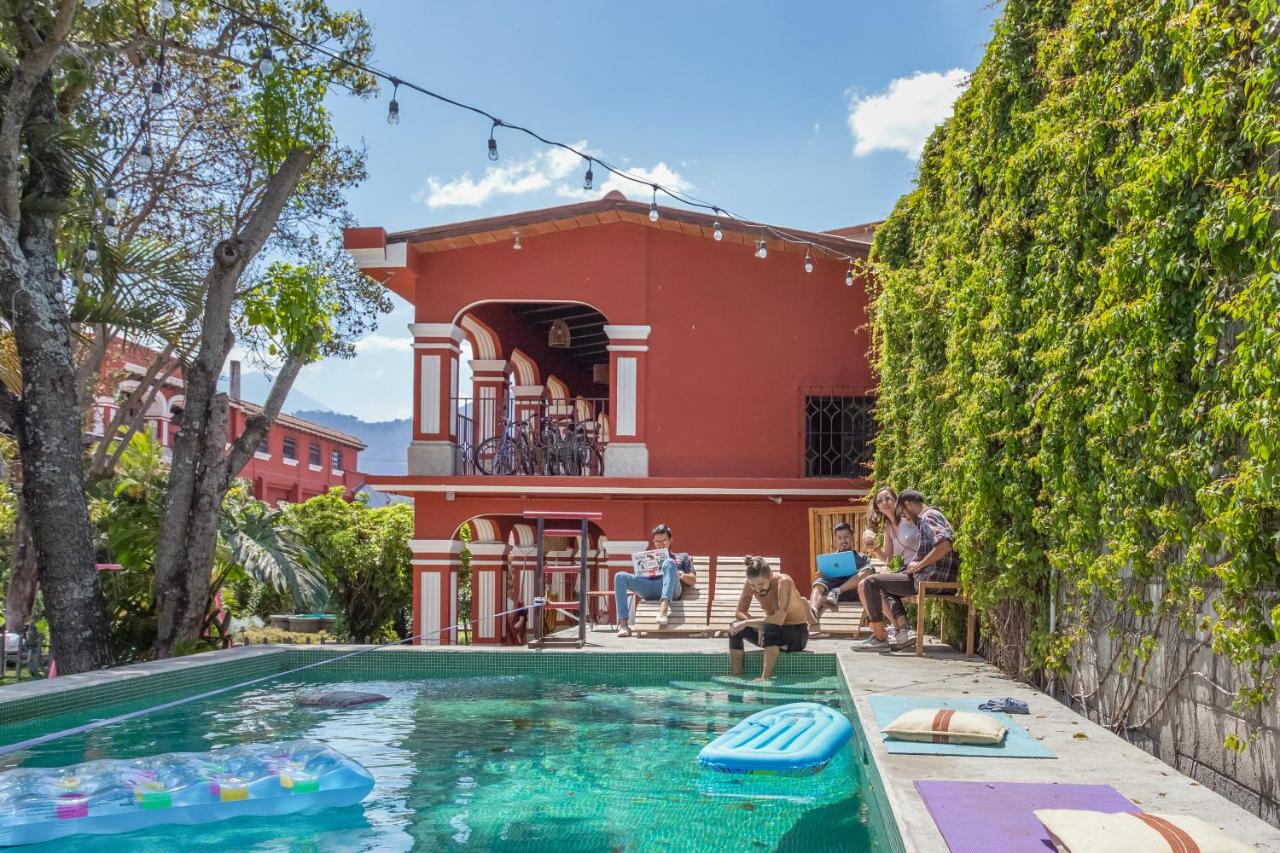 Adra Hostel
Less than 1km from Santa Catalina Arch in Antigua's old town, Adra Hostel is one of the nicest city centre hostels in Antigua. From beds in 8 bed dorms to family tooms, this hostel can accommodate almost all travelers and backpackers. There is a lovely communal courtyard that has chairs, tables, a great seating area and even hammocks. Featuring a restaurant, Free WiFi, an Airport shuttle, currency exchange, a bar and even allowing pets, most rooms come with a terrace and they all include bed linen and towels. You can also get a continental breakfast every morning. As per most hostels they will happily organise tours, advice on what colonial buildings to see, day trips and even transfers to Guatemala city if you require.
or view in the comparison table at the bottom of this post.
El Convento Boutique Hotel
El Convento Boutique Hotel is one of the best luxury hotels in Antigua Guatemala. It is a beautiful hotel located in the heart of the city, close to many restaurants and shops and only a few minutes' walk to almost anything. El Convento Boutique Hotel has a colonial style with modern touches that make it's elegant rooms feel luxurious but not overly pretentious. The hotel is very hacienda in style and it isn't until you enter through the large timber doorway that you appreciate the beautiful interior. El Convento Boutique Hotel has a large swimming pool (also a lap pool), complimentary WiFi, Queen, twin or King Beds, and each room has a Flat-screen TV, AC and a mini bar. The spa at El Convento offers massages, facials, manicures and pedicures for those looking for pampering after a long day sightseeing or hiking around Antigua's ruins. You can also enjoy excellent food and drinks at their restaurant or relax on their terrace lounge area with views of Volcan Agua rising over town.
or view in the comparison table at the bottom of this post.
Casa Mia Hotel
Casa Mia Hotel is a lovely small hotel situated only 500m (and a short walking distance) to the centre of Antigua. They offer free Wi-Fi, they also have on-site parking and also offer all guests a free daily breakfast. The rooms are furnished nicely with tiled floors that honor the history of the area and all have cable TV and a private bathroom. The 24-hour front desk means you can arrive at any time, and the garden and terrace next to the outdoor pool ensures that you have somewhere to relax. Their on-site tour desk and concierge service can help plan outings and day trips to local sights and can also help organise a transfer to or from Guatemala International Airport which is a 45-minute drive.
Pets are also allowed at Casa Mia Hotel.
or view in the comparison table at the bottom of this post.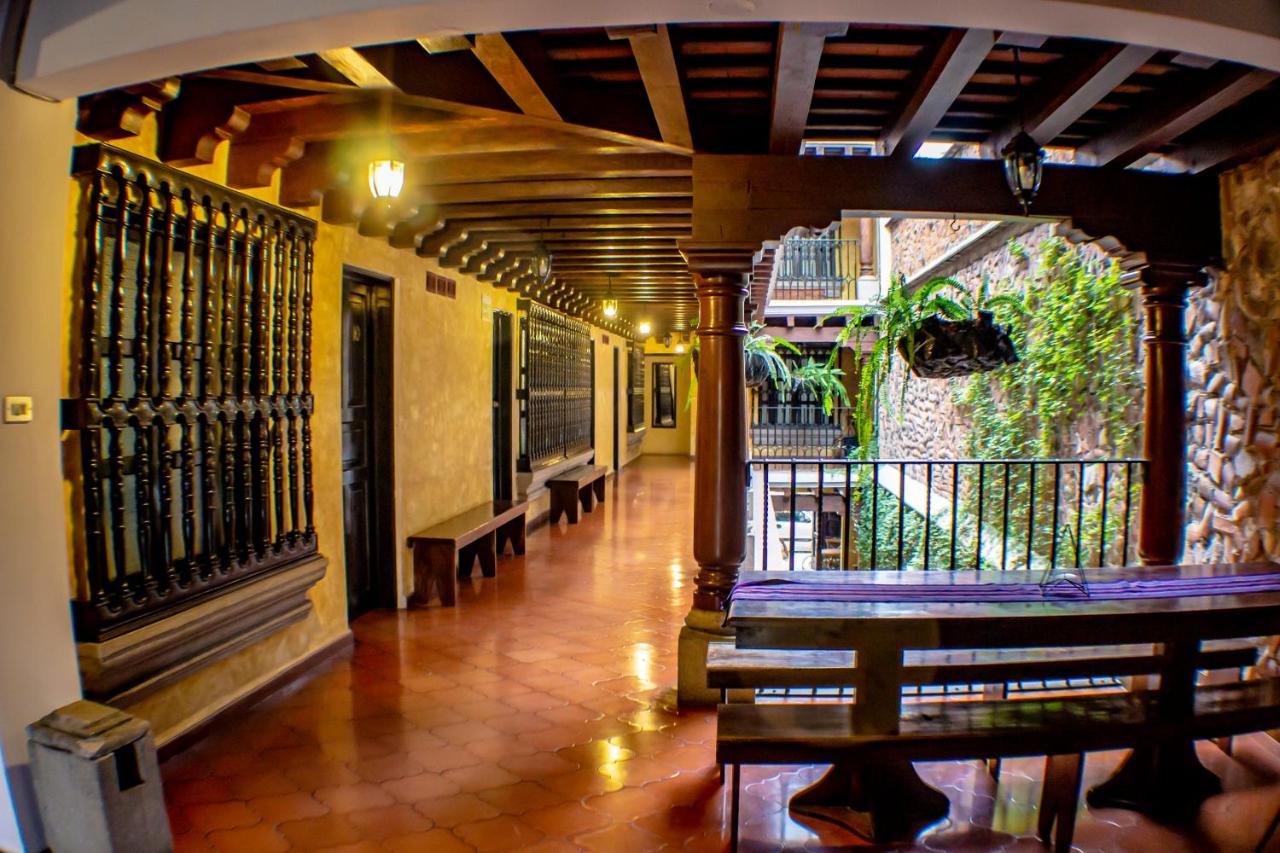 El Carmen Hotel
El Carmen Hotel is located in central Antigua Guatemala, offering 24-hour front desk service, free WiFi access and also a small shop on site. While they are more budget focused, they have stylish and simple rooms complete with a private bathroom, toiletries and a TV with cable channels. They also have a tour desk on site and also offer luggage storage. There is a restaurant and bar along with a great roof terrace with panoramic views out over the terracotta tiled roofs of Antigua out toward the surrounding volcanic mountains.
El Carmen Hotel offers standard twin, double, tripple, queen, king and family rooms.
or view in the comparison table at the bottom of this post.
Good Hotel Antigua
The aptly named, "Good Hotel Antigua" is located in the heart of Antigua's UNESCO area. A former private mansion, Good Hotel Antigua has simply designed rooms and open spaces and almost feels a little Scandinavian in its style. The hotel has an on-site bar, free private parking, spacious rooms, patios, a safe in each room, great matresses as well as organic amenities in the bathrooms. There is a 24-hour front desk at the property, a beautiful open-air communal patio and a shared living room that serves drinks and food. The Good Hotel Antigua has twin, double, delux double rooms as well as a few attractive suites.
or view in the comparison table at the bottom of this post.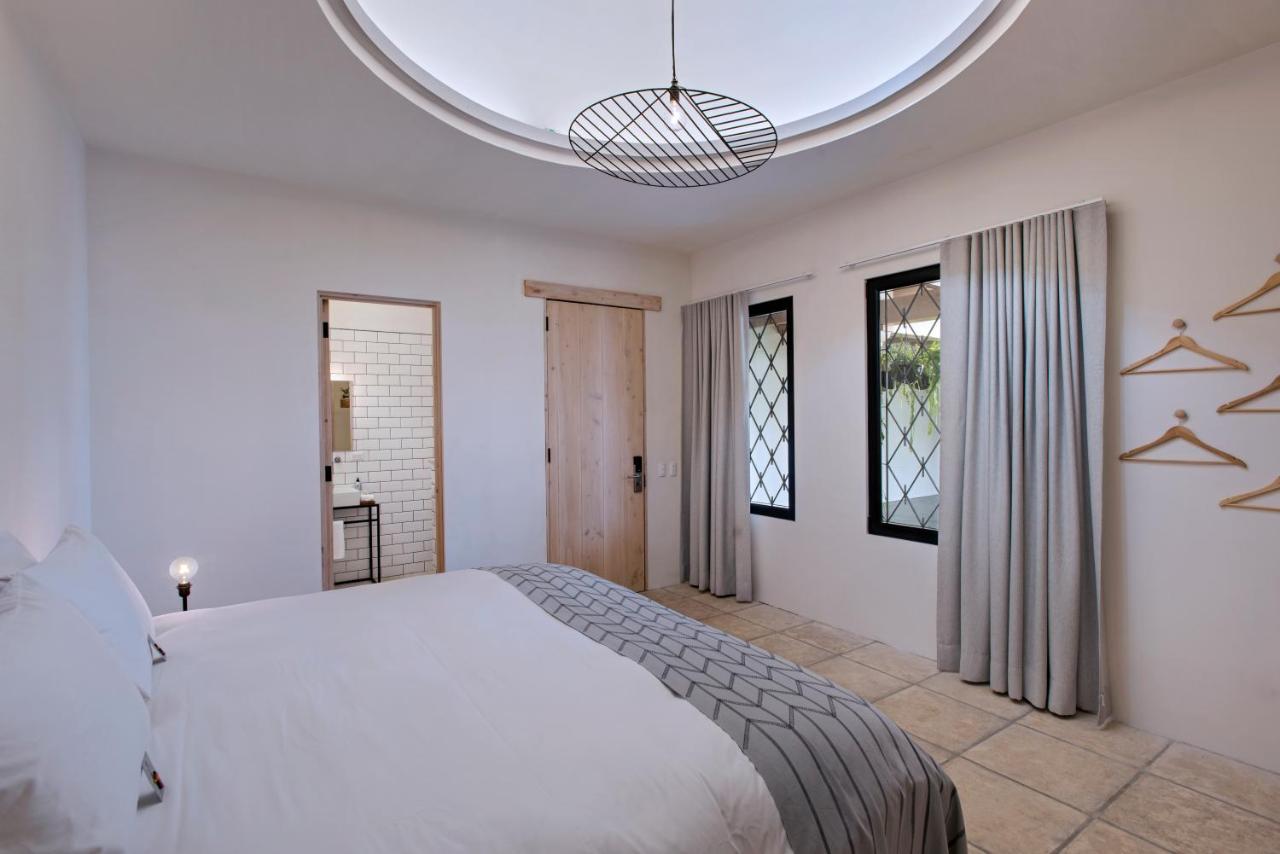 Barbara's Boutique Hostel
Barbara's Boutique Hostel in Antigua Guatemala provides accommodation options from dorm beds to double suites and is aimed firmly at the adults only sector. There is a shared garden and terrace and of course a communal lounge inside. The property is well furnished with trendy and styled pieces in bright and vibrant colors. The shared kitchen is well equipped and the whole hostel is pristine clean. They have free WiFi, a 24 hours front desk and even a currency exchange available to all guests.
Unlike a lot of other hostels, there is more than enough bathroom and shower facilities for all guests and the décor is modern and light. Dorm beds have curtains on each bed and there are lockers for everyone's security.
or view in the comparison table at the bottom of this post.
Meson Panza Verde
Meson Panza Verde is a European-style boutique hotel with beautiful gardens, a rooftop terrace with panoramic views and even an art gallery. Antigua Guatemala's Central Park and Cathedral are 4 blocks away, an ideal walking distance.
The elegantly furnished rooms at Meson Panza Verde have fireplaces and seating areas and are very traditional in their style. Some rooms have an incredible glass wall looking out into the stunning gardens. Free Wi-Fi is available in all areas, free breakfast is included in your room charge and the hotel offers rooms from standard double right up to master suites.
The on-site restaurant specializes in international-style cuisine or take a seat at the bar for a wine or cocktail before or after dinner.
or view in the comparison table at the bottom of this post.
Price Chart for these 10 hotels in Antigua Guatemala.
TIP!! – If you don't use one of these hotels, please make sure you are booking in Antigua Guatemala and NOT the Caribbean Antigua. I've known people that have booked accommodation and flights for the wrong Antigua. That's an expensive mistake. You have to get a transfer to Guatemala City Airport to fly internationally from Antigua in Guatemala.
There is a lot of variety in hotels in Antigua in Guatemala but I'm sure you will find something to suit your style and budget.
Don't forget to save this post to your Guatemala Board for when you visit this incredible country.